There's a quote that always comes to mind when I think about soup. And—cringe—I likely read it on an aqua blue, chevron-laden, circa 2014 Pinterest post. "Only the pure in heart can make a good soup." But despite its drawbacks, this idea holds stock because a good soup doesn't require exact measurements per se. Instead, all you need is a big pot, a small collection of ingredients, and a no-recipe recipe that comes from the soul. But of course, easy soup recipes are welcome in any kitchen.
With the easy soup recipes that follow, a "dash of this here" and a "sprinkle of that there" is encouraged. Going by instinct only means you're invested in the cause, which makes the entire process that much more rewarding. I'd consider this soup diatribe the perfect introduction to easy soup recipes that make fall cooking just as enjoyable as the season itself.
Featured image by Michelle Nash.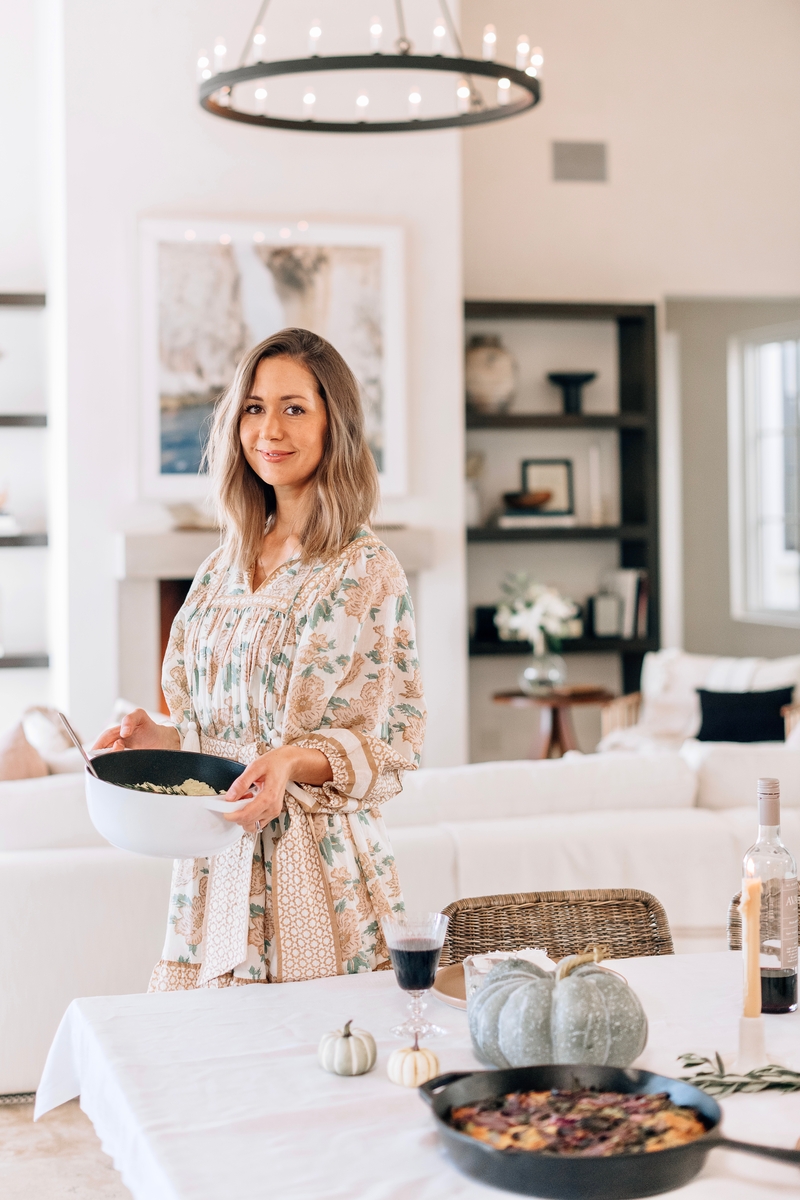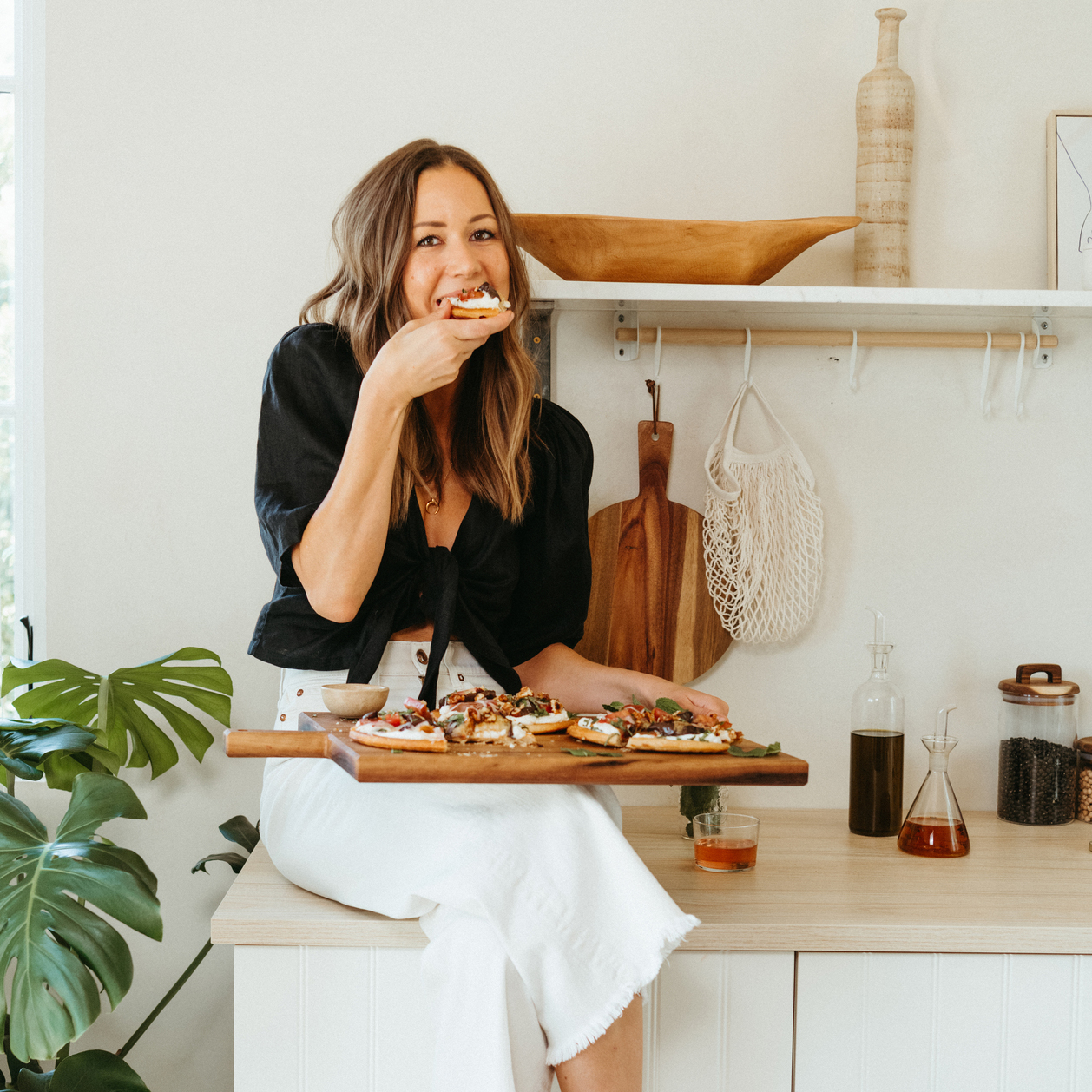 Subscribe
Our Top 10 Recipes
Sign up to receive a FREE E-BOOK of my top 10 most popular recipes of all time!
Thanks for Signing Up!
Oops!
Looks like you're already signed up or your email address is invalid.
Oops!
Looks like you unsubscribed before click here to resubscribe.
Why Easy Soup Recipes Are Perfect for Fall
Fall is the time for a lot of things. The weather cools down, autumn-hued décor bursts out of hibernation, and the cooking gets cozy. Favorite comfort food meals make a comeback and the holidays are just around the corner. Fall is full of a lot of joy and enjoyment. So, why not reflect that in the meals we prepare? That's where easy soup recipes enter the picture.
These easy soup recipes are made with about ten ingredients or less. Plus, most of them use pantry staples and/or produce drawer lingerers. And though these soups are made with minimal ingredients, they manage to deliver maximum flavor.
When you're making these easy soup recipes, you'll notice that the majority of them utilize the soup trifecta method: sauté, simmer, and savor. (The occasional "blend" makes an appearance as well.) The point is, they couldn't be easier to make nor easier to enjoy. It's time to serve yourself a generous dose of goodness. From there, simply sit back and soak in the fall season as it blossoms around you.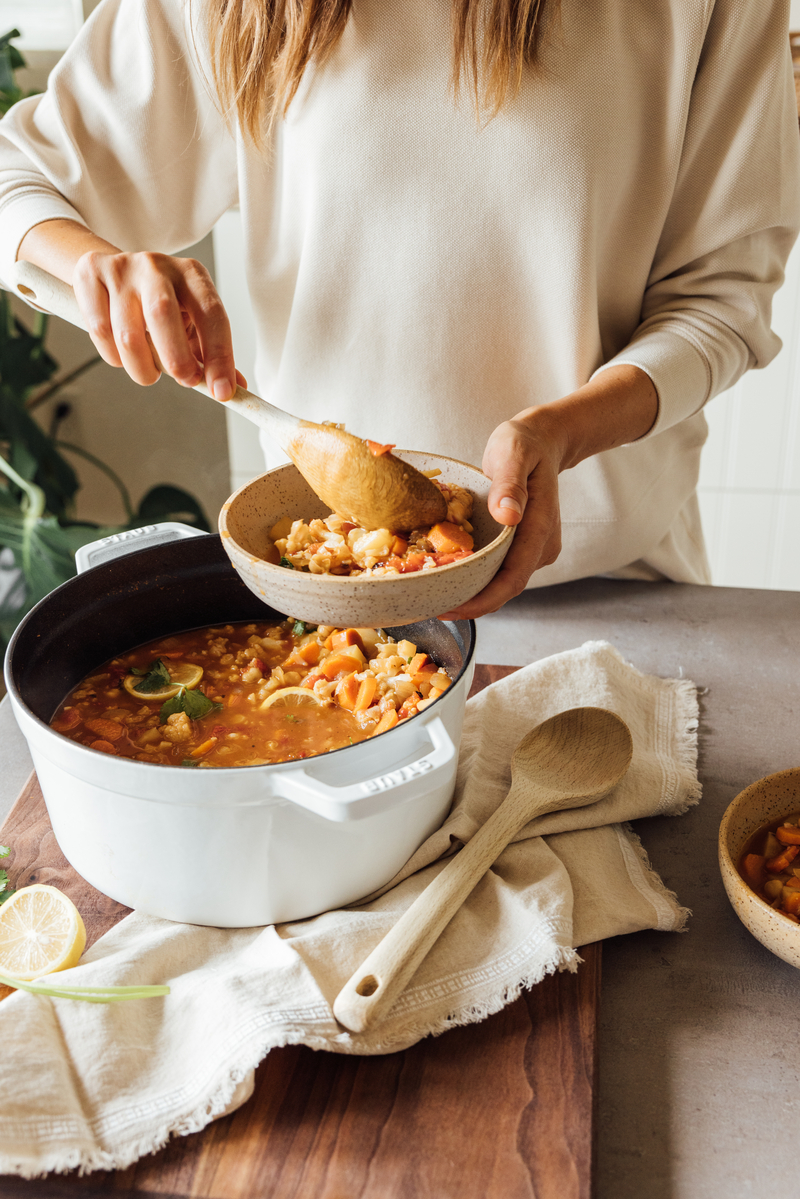 23 Easy Soup Recipes To Savor The Fall Season With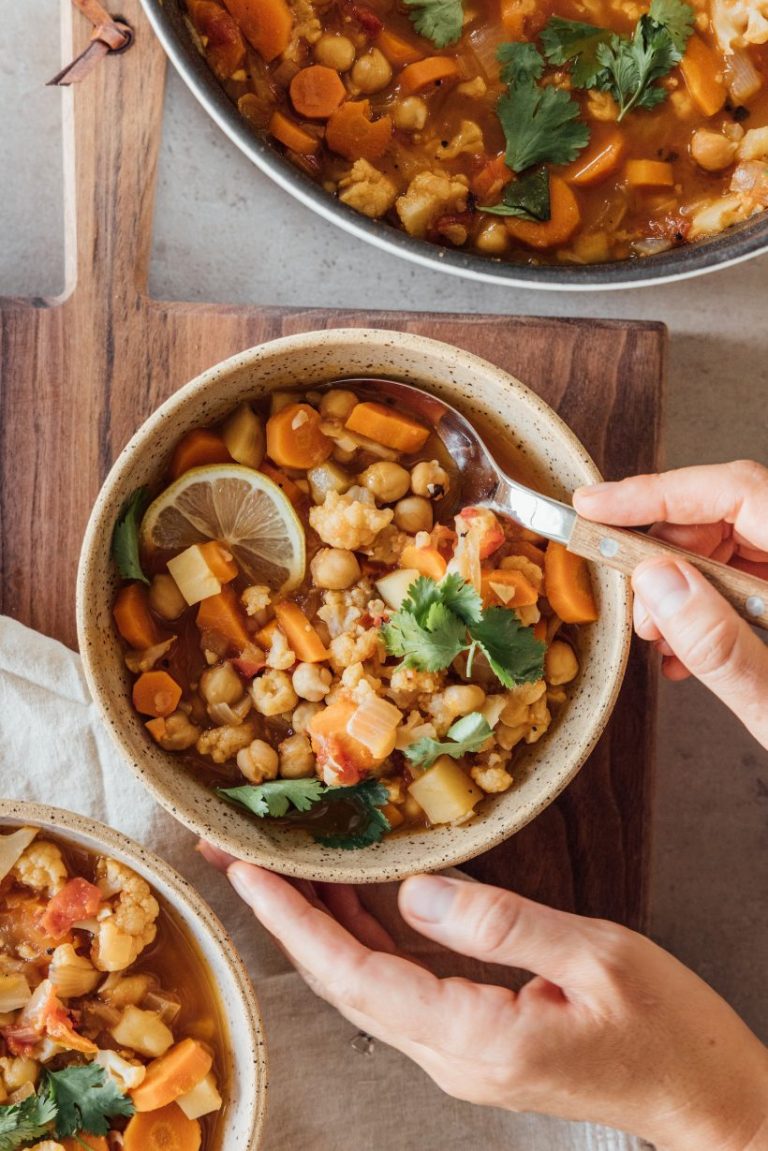 Why We Love It: Hearty meatless mains can be hard to come by, but this stew definitely earns a spot on the list. With carrots, potato, cauliflower, chickpeas, and tomatoes, there's no shortage of veggie-fueled goodness. Everything is sautéed with a fragrant combination of spices for a one-pot dinner that's just as delicious as it is easy. Plus, like the other easy soup recipes on this list, this stew fares well in the freezer for a comforting fall dinner at the drop of a hat.
Hero Ingredient: Cumin, turmeric, ginger, and red pepper flakes are the spices in question. They're the small but mighty heroes of this dish. Warming, comforting, and a little hot, they're toasted until fragrant to fully extract each one's flavor profile.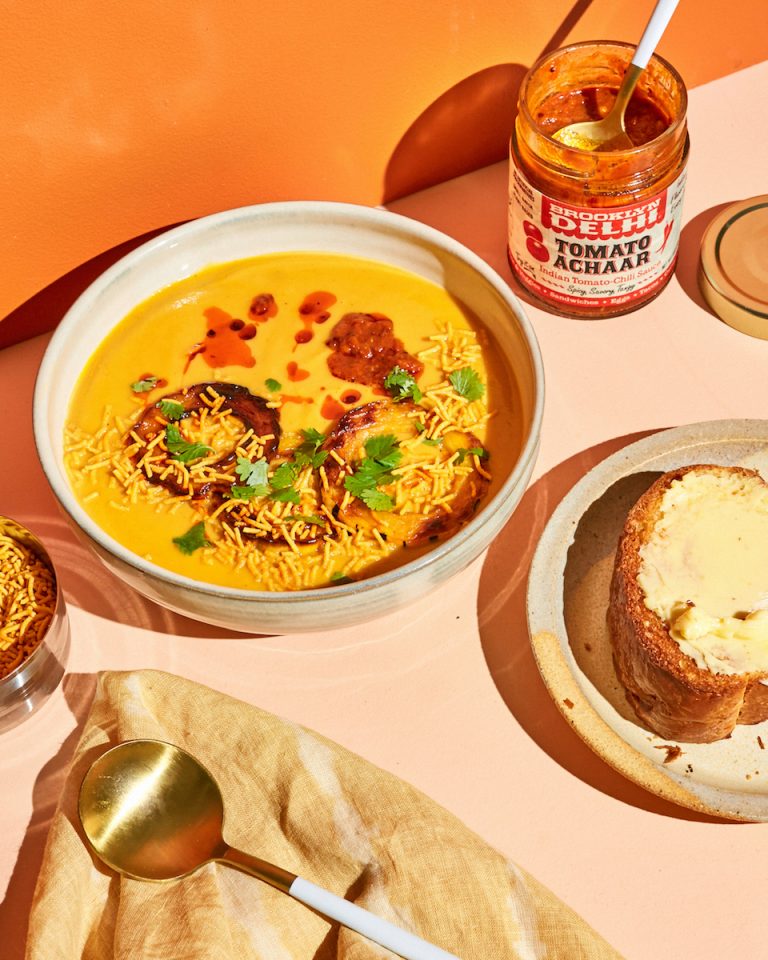 Why We Love It: With only four ingredients, you won't believe just how flavorful this roasted winter squash soup is. The squash is roasted until caramelized, which brings a depth of flavor to the soup that's only reinforced by the warming spices shining throughout. Brooklyn Delhi Simmer Sauce is the secret to success. All you have to do is combine it with the pureed squash and coconut milk and simmer away until the flavors are melded. This recipe is also naturally vegan, gluten-free, and dairy-free, letting serve it at a gathering with little to no worry about dietary restrictions.
Hero Ingredient: The toppings here are stellar. Add what you like, but some suggestions are toasted pumpkin/sunflower seeds for a bite of crunch, fresh herbs to keep things lively, and Greek yogurt for a cooling touch of creaminess.
Why We Love It: Fall weather giving you a case of the sniffles? Or a case of the chills? We've got a cure for that, and it's this easy Mexican Chicken and Rice Soup. It takes eight ingredients and requires minimal hands-on time, so you can enjoy the tried-and-true "throw everything in the pot for a few hours and come back to a complete meal" process. It's perfect for easy weeknight dinners, leftovers, and even gatherings. Enjoy it solo or gather your troops and ladle up lots of bowls to be savored by all.
Hero Ingredient: The bone-in chicken in this soup literally cooks itself, letting you skip the extra elbow grease. The chicken poaching on the bone flavors the broth in a way you'd normally only get with homemade chicken stock. Can I get a win-win?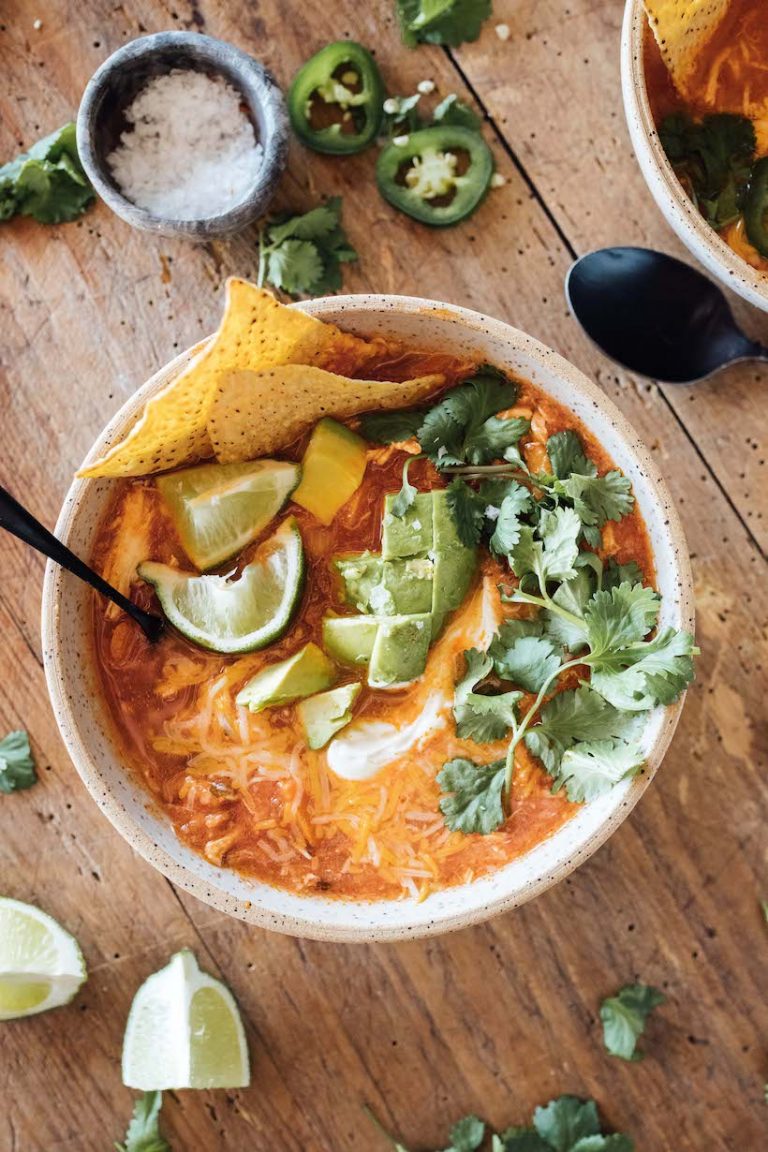 Why We Love It: This tortilla soup recipe is the be-all and end-all of tortilla soups. (I don't say that lightly.) It really is the easiest recipe, using only ten ingredients and 30 minutes of hands-on time to create a whole so much greater than the sum of its parts. If you have leftovers or need a delivery for a sick friend/family member, this recipe is your saving grace. As Camille shares, "this is truly the chicken tortilla soup that keeps on giving." We couldn't agree more.
Hero Ingredient: Don't skimp on the spices. The recipe calls for a chopped jalapeño plus cumin and coriander that round out the flavor profile to perfection. Couple that with sautéed onion, celery, and carrot and you've got a winning soup base.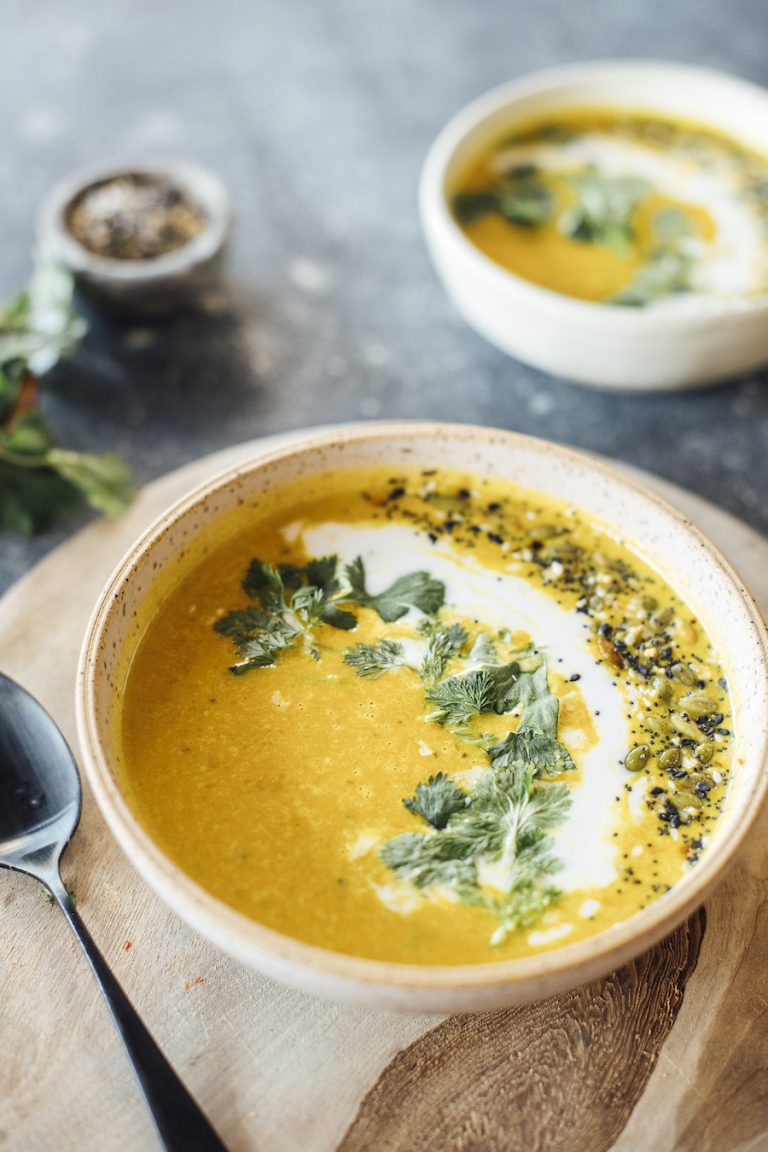 Why We Love It: With the arrival of fall cooking comes lots of indulgences. But when you've had one too many pumpkin spice cookies, this soup is the reset your body craves. It's full of anti-inflammatory ingredients like turmeric and ginger. And despite being completely vegan, it's creamy and rich. Everything you could crave during the colder months.
Hero Ingredient: Since every ingredient is so key, we'll go with a hero method here. This soup keeps incredibly well, setting you up with cozy, comfort food leftovers. It keeps in the fridge for up to a week, or you can store it in airtight bags for up to two months in the freezer.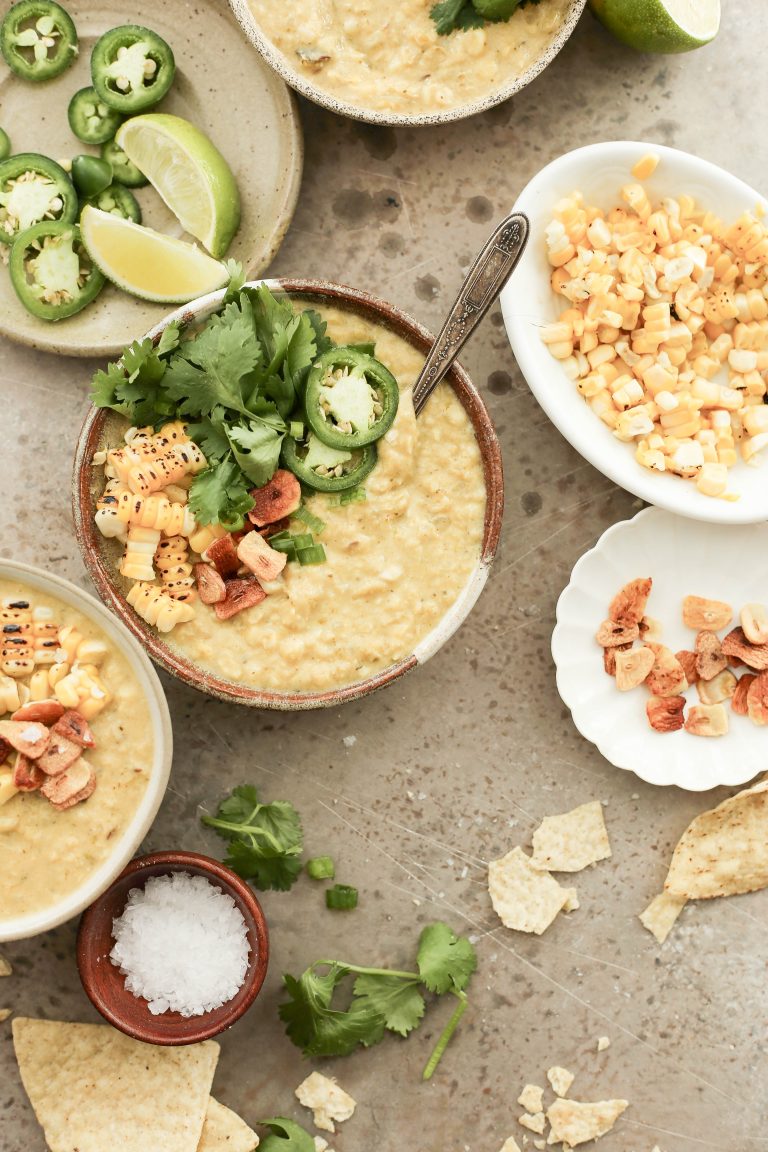 Why We Love It: This textured corn soup is absolutely loaded with flavor and heartiness. Plus, it only takes 30 minutes to take this masterpiece from pot to bowl. And while most corn soups are on the sweeter side, the spice in this recipe keeps things balanced and dynamic. Jalapeño, sriracha, and roasted poblanos bring a warmth that's perfect on a cold fall night.
Hero Ingredient: If you're a roasted poblano newbie, you're in for a treat. Their smokiness is magical enough to justify the (small amount of) extra effort. All you have to do is bake them until they're blistery, place them in a bowl or container, and cover to let them steam for about ten minutes. The steam loosens that exterior skin so that it practically slides off. All that's left is to (easily) slice the peppers open, remove the seeds, chop them up, and add them to whatever dish you're preparing. Easy peasy!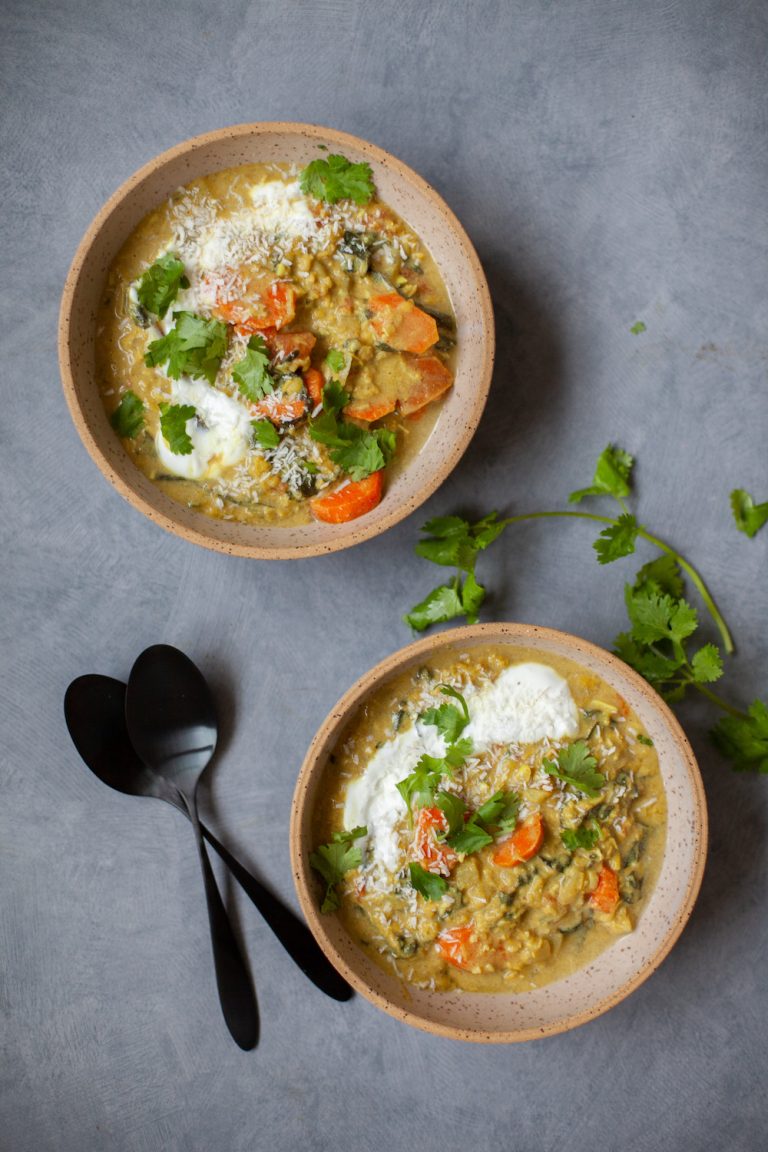 Why We Love It: This soup is packed with stick-to-your-ribs protein and a healthy serving of vegetables. It's full of curry powder-fueled flavor and coconut-y accents. As far as vegetables go, the soup features carrots, tomatoes, and kale, but you can make substitutions based on what you have on hand. If sweet potatoes are more your jam, include them instead of carrots. Or, if you prefer spinach over kale, sprinkle those leaves accordingly!
Hero Ingredient: The red lentils are loaded with vitamins and nutrients that boost the soup's nutritional value. Just one cup of these babies contains 18 grams of protein, plus a dose of iron, fiber, magnesium, and calcium. Do I hear "superfood?"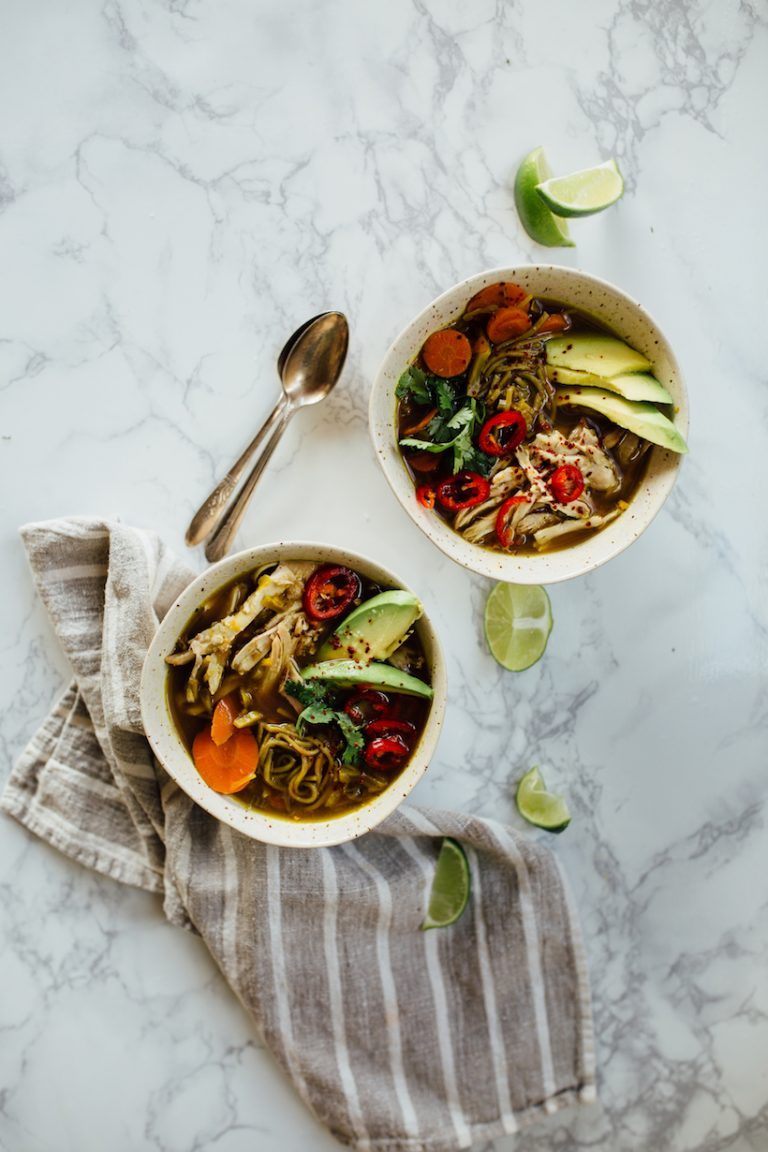 Why We Love It: This soup is a cure-all for yourself and those around you. Not only is this soup flavorful and warming, but it's equipped to fight off almost any ailment. The ginger and turmeric keep inflammation at bay and the garlic brings antibiotic properties to keep you healthy and happy. This is your sign to give yourself the 'old chicken noodle soup treatment. But of course, with a grown-up and guilt-free spin!
Hero Ingredient: The noodles literally cook themselves and soak up each of the soup's tasty flavors.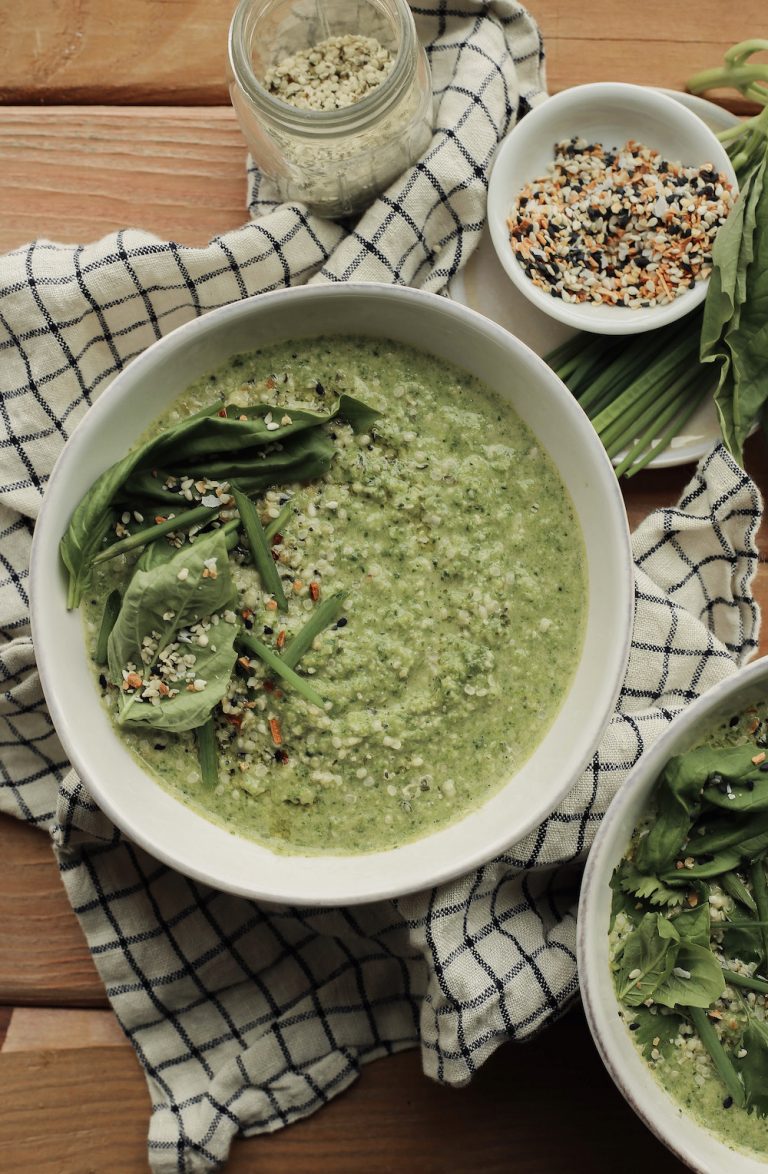 Why We Love It: This is a recipe that encourages you to empty your vegetable drawer. On Sundays, I almost always have a produce drawer full of sad vegetables begging to be used. In times of dire need, this soup is your answer. Asparagus, broccoli, spinach, and fresh ginger are at the forefront, but you can sub in pretty much anything you have on hand. And frozen veggies are fair game, too. There's nothing standing between you and a soup that's easy to make and makes you glow from the inside out.
Hero Ingredient: Soaked cashews cash in the creamy element of this soup. The vegan alternative is one that's surprisingly rich and nutritious without any cream in sight.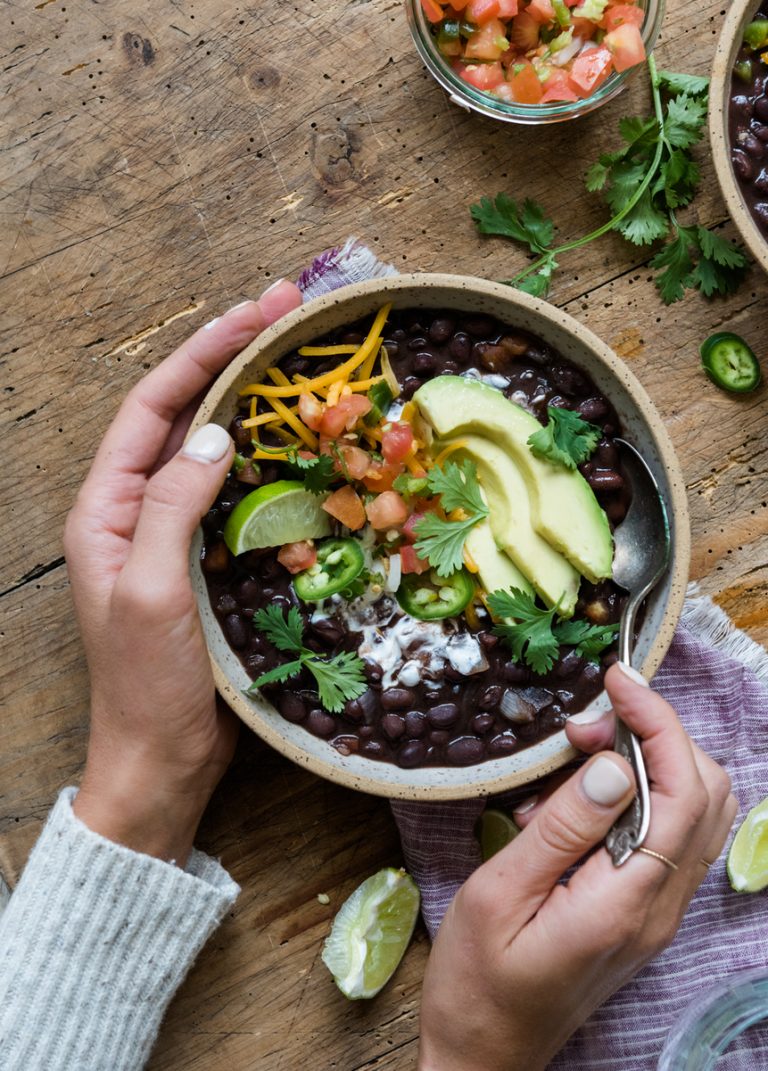 Why We Love It: If you think "easiest ever" is an exaggeration, think again. This recipe is tailor-made for busy weeknights. It uses only seven ingredients including onion, garlic, canned black beans (hallelujah), chicken broth, cilantro, lime juice, and a few spices to craft a steaming bowl of deliciousness. Plus, all you have to do is combine everything in a pot, simmer for 20 to 30 minutes, and top as you please. If you favor a more luxurious texture, whip out the immersion blender or transfer to a blender and puree until smooth. Either way, you can't go wrong!
Hero Ingredient: You don't even have to drain the black beans. Simply pour them over the sautéed garlic and onion and you're cooking with heat. Busy weeknights, meet your match.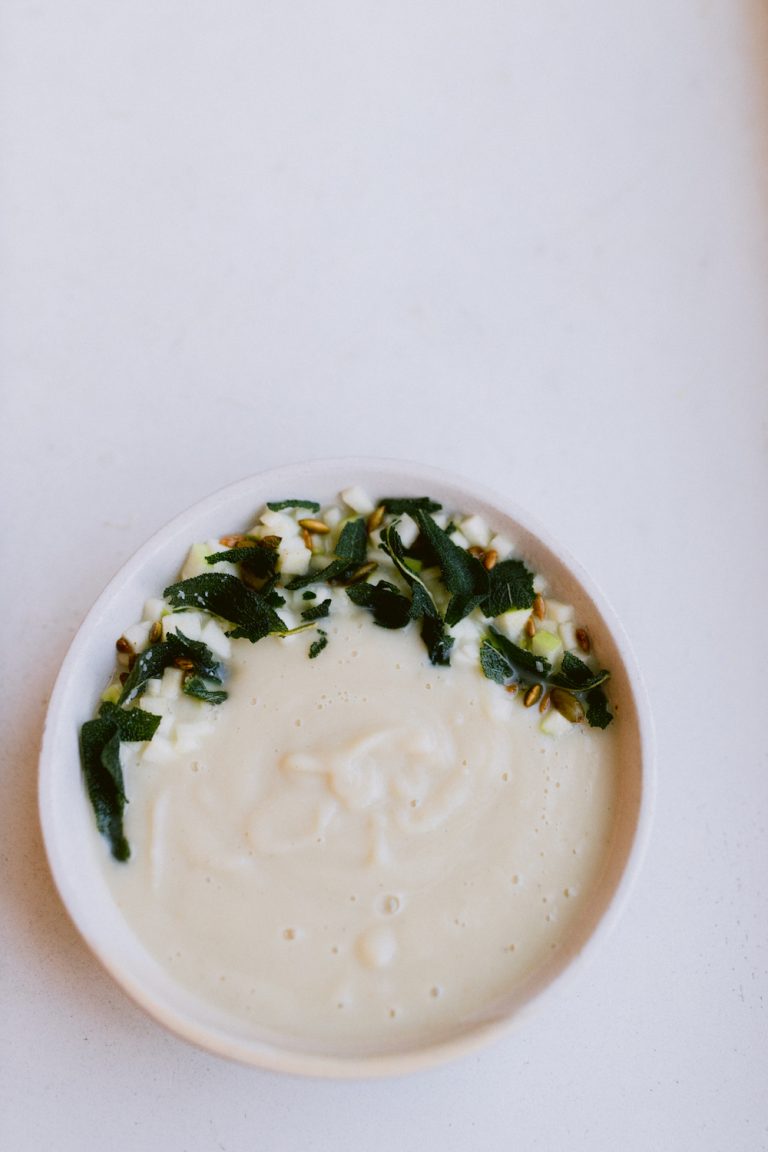 Why We Love It: Cauliflower can get a bad rap for being bland, but that's not the case in this smooth soup. With sidekicks like parsnip, apple, celery root, leeks, garlic, onions, and ginger joining the party, this soup is full of amazing flavor. What's more, it's also an excellent vegan, dairy-free, and gluten-free offering for fall gatherings. Sauté the veggies (and fruit) with thyme, cumin, and s&p until aromatic. From there, add the cauliflower with a little water, simmer until everything is tender, and blend until your soup is silky smooth.
Hero Ingredient: A garnish of fried sage on every bowl is the cherry on top of this soup. They add flavor, texture, and a little aesthetic joy. The leaves are flash-fried in olive oil and sprinkled with flaky salt until crispy. Sneak a bite of a leaf or two before sprinkling them over each bowl—you won't regret it.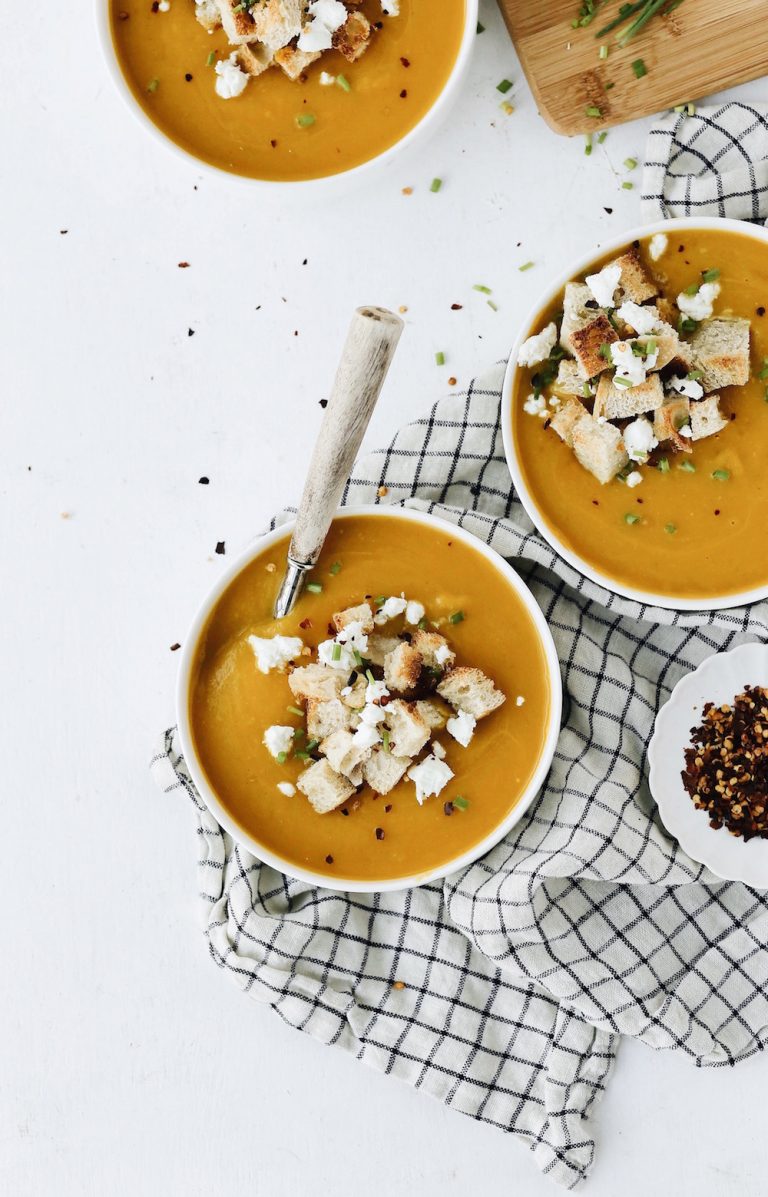 Why We Love It: Butternut squash reigns victorious in the fall, and this soup celebrates the winter squash in an unexpected way. It's flavored with curry powder, which brings notes of coriander, turmeric, fenugreek, cumin, and chili to the mix. Diced onions and apple lend a slight sweetness that reinforces the autumnal feel. For an added dose of comfort, drizzle a spoonful of coconut milk or heavy cream over each bowl.
Hero Ingredient: The curry powder is a little funky in the best way. It brings a depth of flavor that keeps things cozy.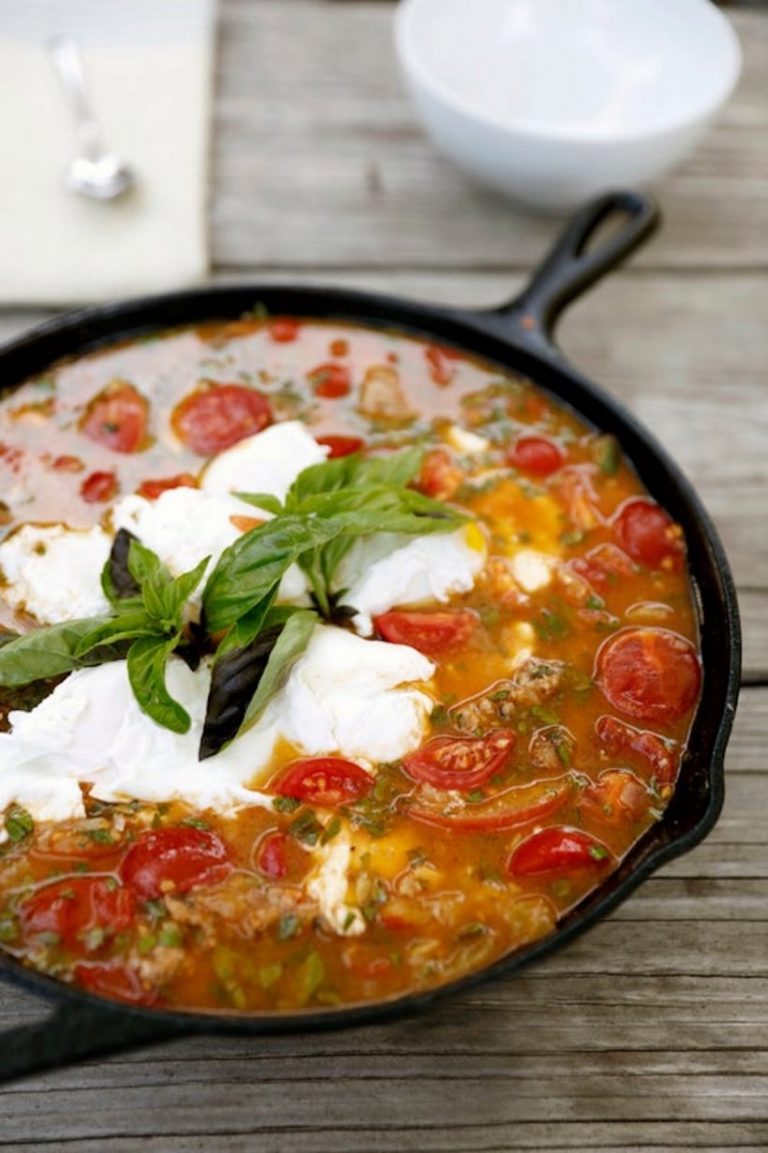 Why We Love It: This tomato soup is perfectly rustic and wholesome for chilly nights. It keeps things simple, fresh, and flavorful with cherry tomatoes, fresh basil, garlic, shallot, and balsamic vinegar laying the groundwork. You can enjoy this simple soup as-is, or with sausage, zucchini, mozzarella, white beans or poached eggs. It's made entirely in one skillet and comes together in 15 minutes or less. Serve with lots of fresh or toasted sourdough bread for dipping.
Hero Ingredient: You can't go wrong with adding poached eggs. If you choose to include them, poach and gently drop them in at the last minute. Then, you can pop them open and enjoy the savory yolk running throughout. Yum.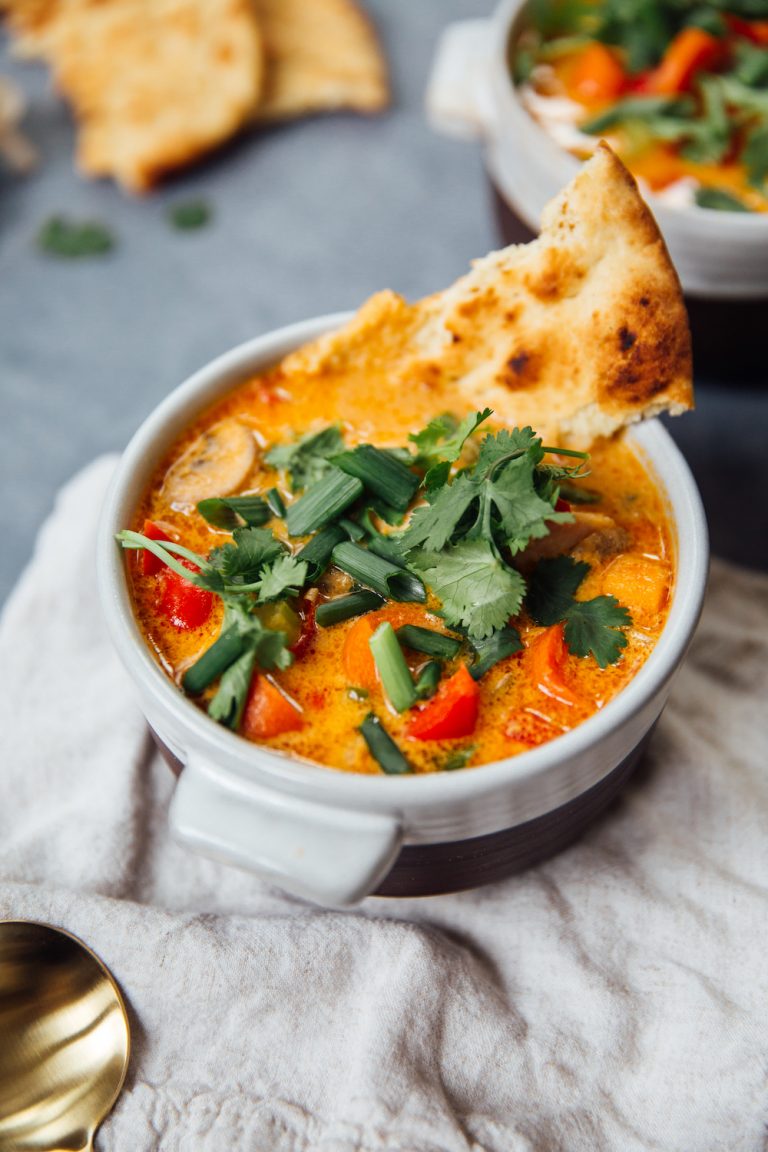 Why We Love It: The ingredient list is more extensive than the other easy soup recipes on this list, but you'll likely have most of them on hand. The secret ingredient is Amy's Thai Coconut Soup, which does most of the hard work for you. You don't even have to do any sautéeing and the chicken cooks itself in the soup broth. Less work and more flavor—is there anything else we can ask for?
Hero Ingredient: There's no wrong way to enjoy this flavorfully complex soup. Over a bed of jasmine rice, rice noodles, or as-is… this soup is your oyster. That said, I'd recommend enjoying your bowl with a few pieces of garlic naan for delicious dunking.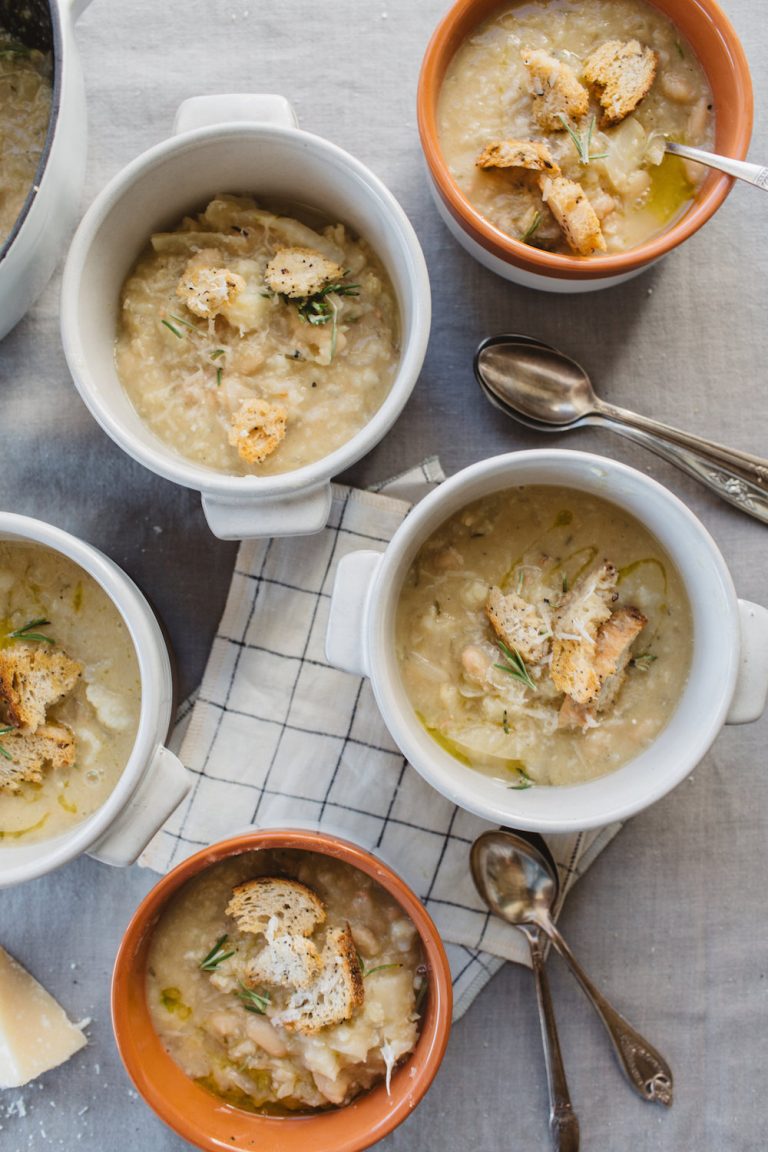 Why We Love It: This recipe makes for a very satisfying plant-based dinner. It's packed with high-fiber white beans and hearty vegetables. It all starts with roasted garlic that brings so much flavor and is totally worth the extra step. Then, fennel, onion, and cauliflower are sautéed low and slow for about 30 minutes until the beans and broth enter the equation. The entire mix gets roughly pureed with the roasted garlic before being ladled into bowls. Don't forget to top with lots of grated parm and fresh croutons.
Hero Ingredient: The roasted garlic is the unsung star of the show. When you roast the entire head, it takes on a nutty, caramelized flavor profile that's simply divine. Plus, it couldn't be easier to squeeze each clove out in one go. If you have an extra head, might I suggest roasting to spread on your bread? You'll be glad you did.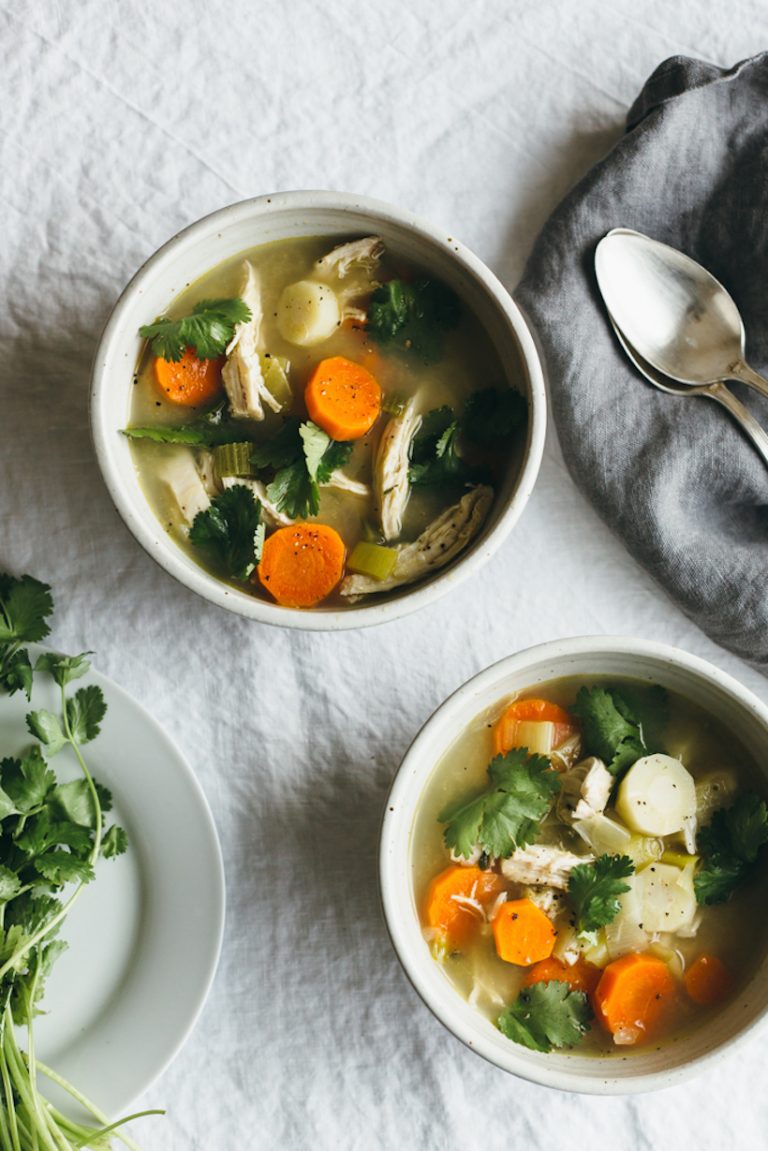 Why We Love It: This is another classic soup that you'll want in your weekly rotation. Since the chicken poaches itself in the broth, the entire soup comes together in 20 minutes or less—score! And what vegetables can we celebrate enjoying here? Leeks, carrots, parsnips, celery, garlic, and onion, which keep this recipe nutrient-dense and gut-friendly. The soup is enhanced by fresh thyme, tarragon, and bay leaf, whose flavors perfectly complement the poached chicken and veggies.
Hero Ingredient: A hero aspect of this recipe is that it's gluten-free and dairy-free without sacrificing any decadence. It's the perfect cold night companion and freezes well so you can enjoy a warming bowl on demand.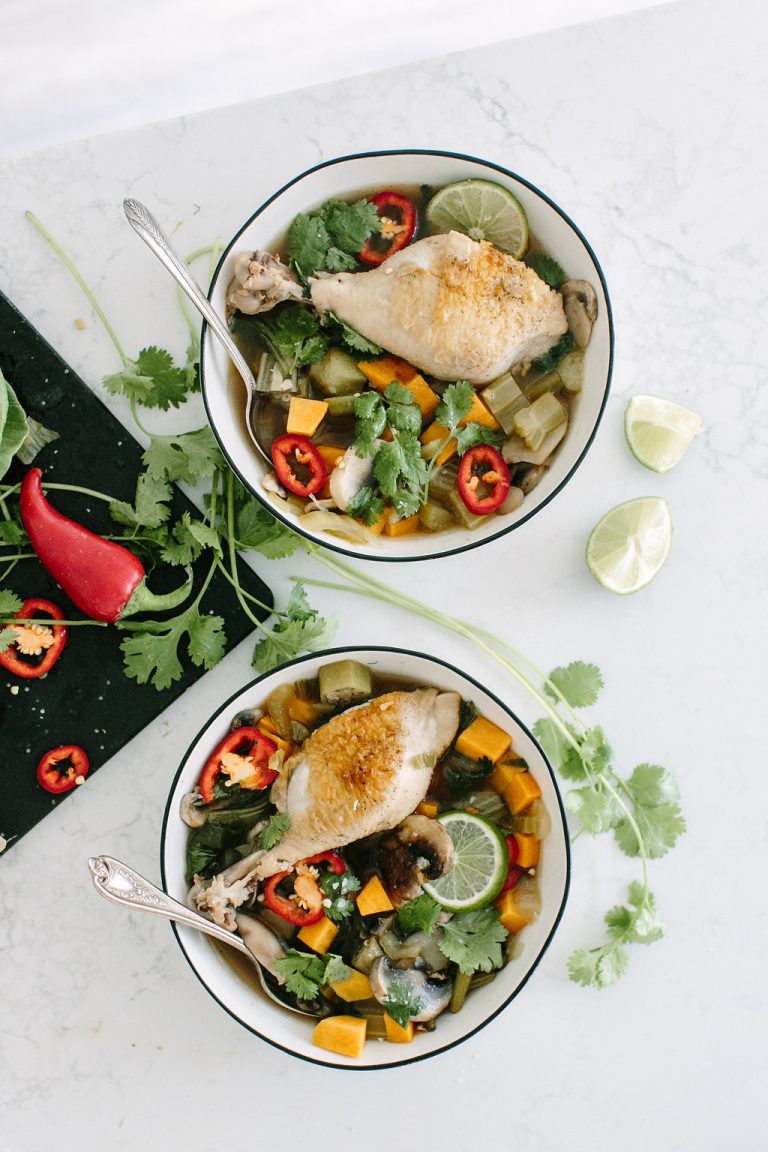 Why We Love It: Another grown-up, chicken noodle-esque soup, this easy recipe is yummy and 100 percent slurp-worthy. With an impressive lineup of veggies like butternut squash, bok choy, okra, and mushrooms, you could comfortably leave out the chicken and enjoy this soup as a vegetarian meal. And speaking of the chicken… you'll start by browning your drumsticks and build from there. The rich, umami flavor is off the charts.
Hero Ingredient: The mushrooms in this soup are nothing short of award-worthy. They soak up each and every flavor in the broth and bring even more substance to the soup.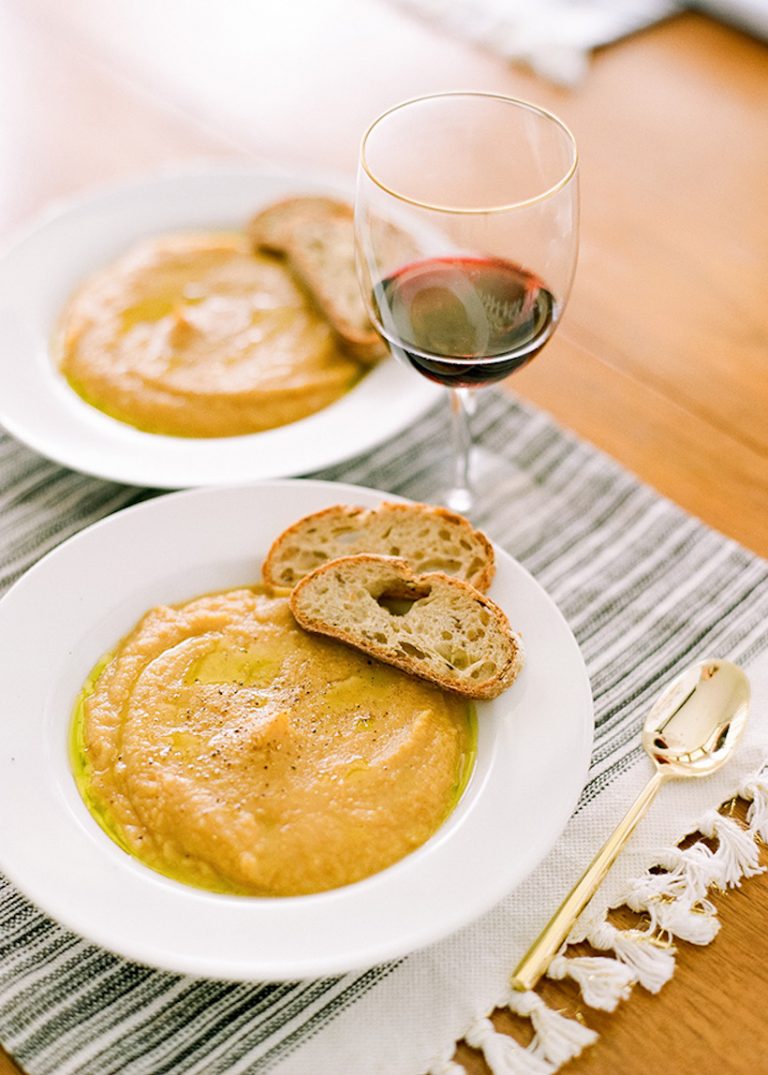 Why We Love It: Sweet potatoes are constant rotation in my fall recipes. In this soup, not only do the tubers provide a festive color palette, but their creamy richness establishes a beautiful foundation for a host of flavors. All you have to do is sauté a little onion, garlic, and shallot, stir in your stock, sweet potato, and spices, and simmer away for about 30 minutes. Then, you'll blend your soup to silky perfection and serve it with fresh salt and pepper and bread for dipping. Easy, flavorful, and oh-so-satisfying.
Hero Ingredient: The spices work behind the scenes to flavor this soup beautifully. Paprika brings a smoky savoriness that's complemented by earthy, punchy cinnamon that's totally on-brand for the season.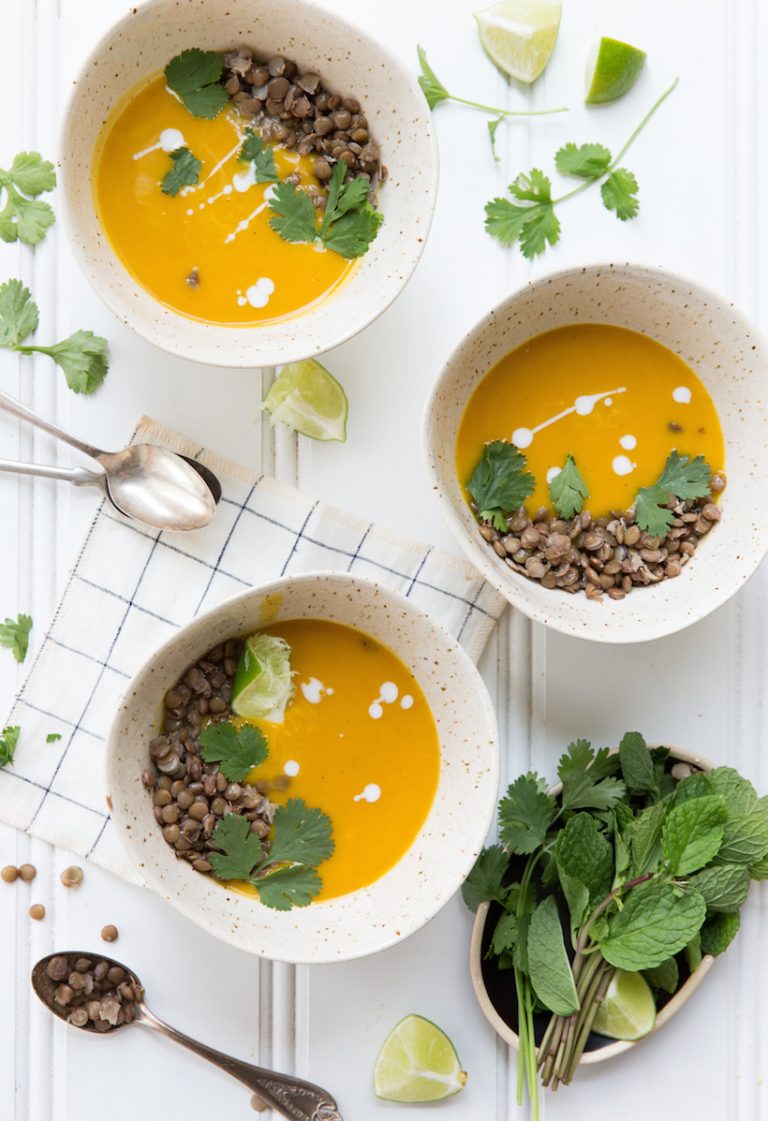 Why We Love It: This pumpkin soup is layered with curry spices, winter squash, and a lively hint of fresh herbs and citrus to finish it off. Plus, more lentils! The lentils help this soup feel more substantial for dinner and provide that hefty dose of protein. This recipe starts with a high-quality boxed soup that's enhanced by fresh herbs and a few additions that polish off the soup to perfection. You'll start by combining the boxed soup with coconut milk, then adding curry powder, lime juice, and s&p to taste. To serve, top your soup with a drizzle of coconut milk and any fresh herbs you have on hand.
Hero Ingredient: If you have any pepitas on hand, I'd suggest sprinkling a handful over each bowl. They bring a nice crunch to each spoonful that contrasts the smooth soup underneath.
Why We Love It: Hailing from Colombia, this authentic Bogotánian Ajiáco is deeply rooted in the region's culture. It was declared cultural patrimony, or "a set of goods and values that are an expression of the people," by the mayor's office in Bogotá about 20 years ago. It's destined to be special. The ajiáco soup is made with three kinds of potatoes: russet, Criolla (or gold creamer), and Yukon Gold. Each potato takes on a different role in creating the soup's base (learn more about the technique here). If you have a little time on your hands this weekend, invite a friend over to explore this culinary masterpiece together.
Hero Ingredient: If you can't find guasca herbs, don't let it discourage you from making this comforting potato soup. You can leave it out without sacrificing too much of the soup's authentic flavor.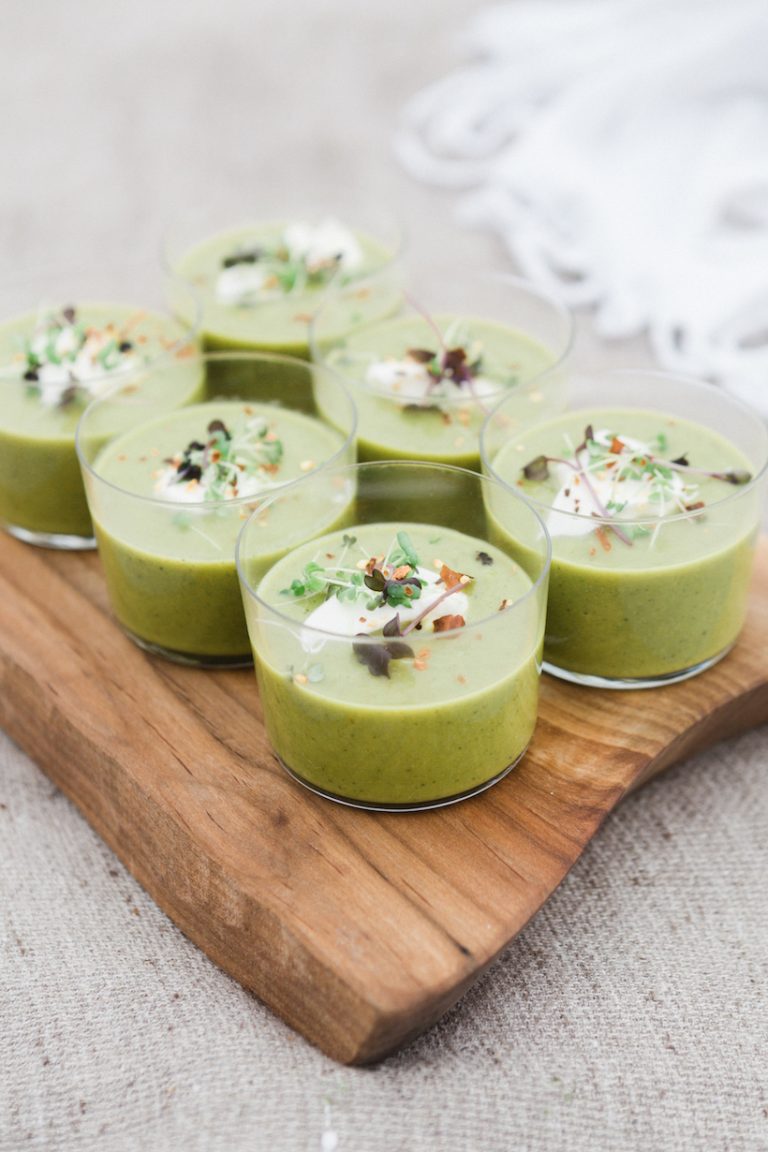 Why We Love It: It may not be as cozy as some of the other easy soup recipes on this list, but this chilled pea soup is a light and refreshing way to kick your fall gatherings off in style. You can make it entirely in advance, so all that's left is to serve your soup with a little creme fraiche, microgreens, and red pepper flakes. It makes for a palette-cleansing yet flavorful appetizer that's the perfect preview for a delicious, thoughtful meal.
Hero Ingredient: Peas aren't the only lean, green, vegetable machine in this soup. Broccoli and zucchini sneak in the background and boost the veggie content of this gorgeous chilled soup. If you're feeling adventurous, you could even add in a little green bean or asparagus to up the ante.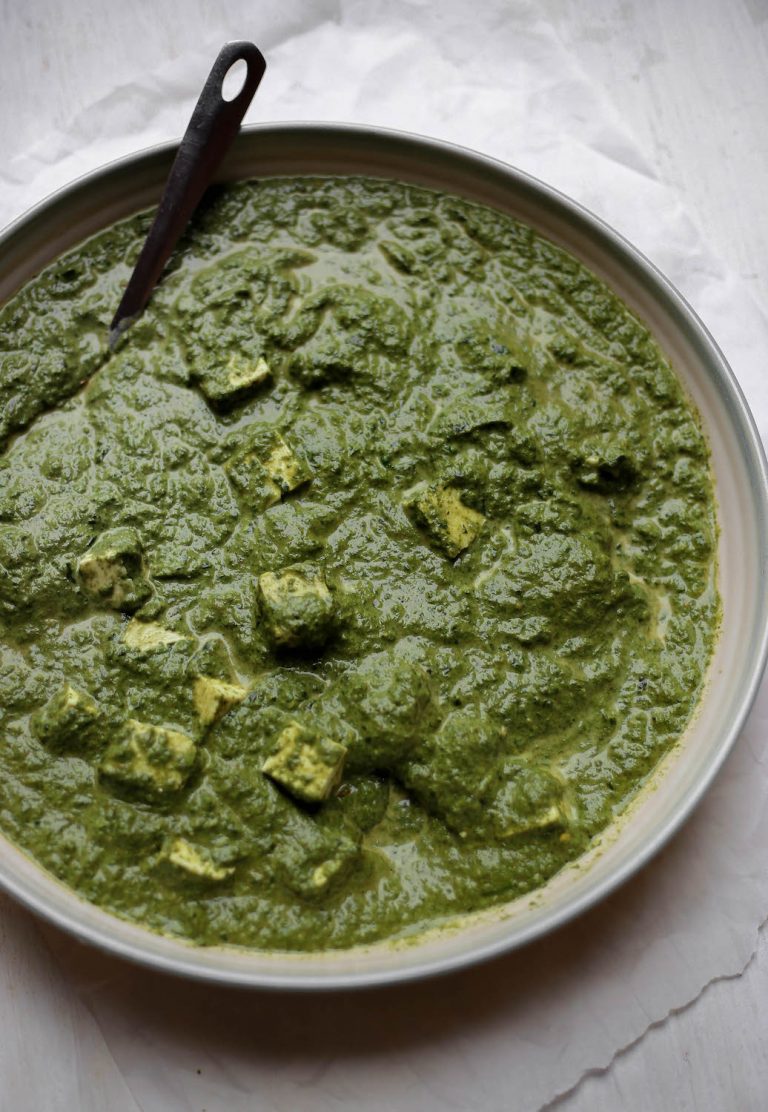 Why We Love It: Ok, ok… this one is not technically a soup, but it's creamy, comforting, and soup-ish all the same. And this version skips the overdose of heavy cream and butter while opting for authenticity and spice-driven flavor. It uses seven ingredients and 25 minutes to craft an Indian dish you'll be hooked on for cold fall nights.
Hero Ingredient: The spice mix in this dish is just divine. Tomato masala, garam masala, chaat masala, and turmeric powder join forces to flavor the base. That said, feel free to use this recipe as a starting point to adjust based on your preferences. Measure with your heart and make it how you like it.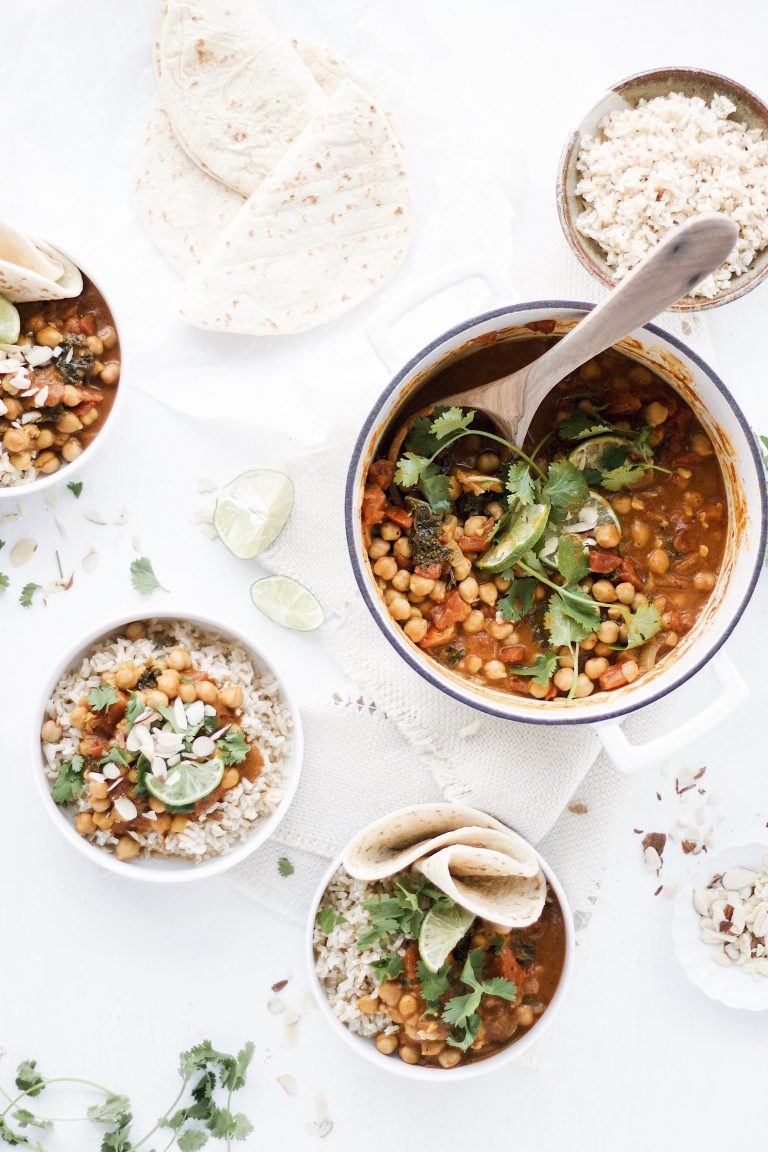 Why We Love It: This stew-like pumpkin curry is loaded with nutrition. Instead of using an agent like heavy cream to cream-ify the base, pumpkin makes it flavorful, nutrient-dense, and decadent. As a proud member of the "superfood" family, pumpkin is packed with vitamin A, carotenoids, fiber, and iron. In this dish, it's joined by chickpeas that boost the fiber and protein dosages even more. The stew is full of stick-to-your-ribs sustenance and warming spices that will have you coming back for more. Which is good, considering this curry fares well in the fridge or freezer.
Hero Ingredient: Serve this curry over a bed of rice and fresh flatbread to complete your bowl of goodness.
We want to hear from you! Feel free to share your favorite easy soup recipes with us in the comments!