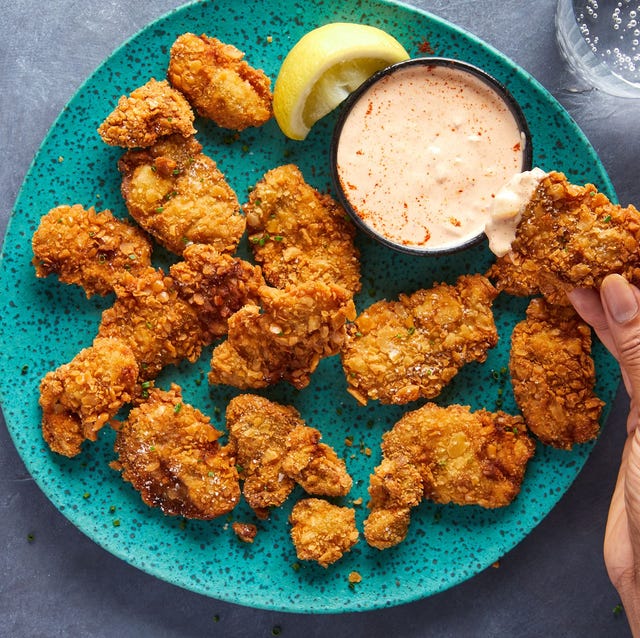 PHOTO: LUCY SCHAEFFER; FOOD STYLING: BROOKE CAISON
It's officially Carnival season, and you know what that means: Mardi Gras is just around the corner. If you're throwing a party, you've got to have tons of beads and masks for decoration, a king cake (complete with good luck baby!), and enough Cajun-inspired food to feed your whole crowd… Speaking of, if your party is more of the, say, pigs in a blanket-type than a sit-down dinner, these Fat Tuesday appetizers are for you. They'll keep you from getting stuck in the kitchen, are sure to get any kind of party started, and will keep the good times rolling all night long.
Every appetizer spread benefits from a little variety, and Mardi Gras is no different. You could just put out some chips and dip and call it a day, but it's Mardi Gras, so over the top is always better. That means multiple options, people! We took inspiration from classic appetizers we know and love, then gave them New Orleans-, the South-, and all things Cajun and Creole-inspired twists. Looking for flavorful, creamy dips? Try our hot crab dip, our jambalaya dip, our Funfetti dip, or our Louisiana shrimp dip. Want more bite-sized options? Check out our shrimp po'boy sliders, our lobster-shrimp cakes, our boudin balls, or our fried okra.
Speaking of frying, we get that it's not always feasible to pull out a massive pot of oil, so we've included a number of air fryer recipes for you here too. Our air fryer okra, crab cakes, and scallops get just as crispy as their counterparts, with half the work.
And don't forget something sweet! Our beignets, king cake truffles, pecan pralines, and chocolate mint moon pies would all be perfect nestled in among your savory spread.
Want more Mardi Gras inspiration? Check out our favorite Mardi Gras foods, drinks, and desserts too.