If you're one of the lucky ones that lives close to a Panera Bread, then you know the magic of being able to walk in and order from an array of items like sandwiches, soups, breakfast sandwiches, salads, baked goods, smoothies, and delicious coffee drinks. But Panera is not only known for its wide variety of delicious foods. It's also known for providing fairly healthy options at an affordable price. However, even though many of their items are low in calories and high in nutrients, experts still warn of some of the worst Panera orders you can make.
When it comes to their unhealthiest menu items, these are loaded with calories, sodium, sugars, and saturated fat. In fact, when we talked to a few dietitians to get their vote on the worst menu items, many of what they chose contained levels of calories, saturated fat, and sodium that exceeded the recommended daily amounts in just one meal! Not only that, but these menu items lack other nutrients and make for highly imbalanced meals.
So, read on to find out what dietitians voted as the worst Panera orders to make. Then, for more healthy eating tips, make sure to check out 15 Best Costco Foods To Buy, According to Dietitians.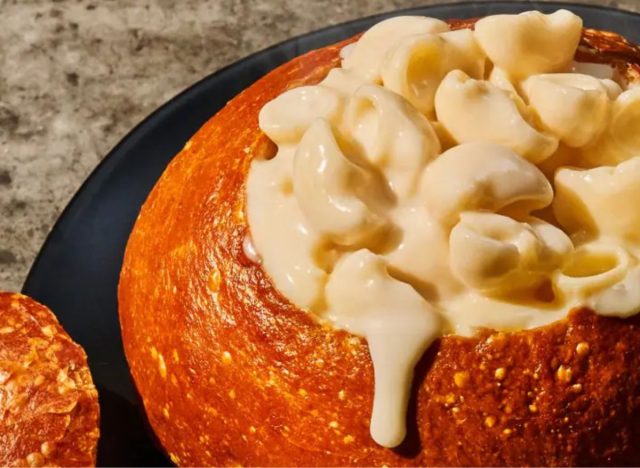 Per bowl: 1,150 calories, 36 g fat (18 g saturated fat, 1 g trans fat), 2,310 mg sodium, 164 g carbs (4 g fiber, 9 g sugar), 43 g protein
"This dish consisting of creamy mac and cheese stuffed inside a sourdough bread may taste delicious, but it is just too much for one person," says Toby Amidor, MS, RD, CDN, FAND award-winning nutrition expert and Wall Street Journal bestselling author of The Family Immunity Cookbook. "It is packed with 90% of your total artery-clogging saturated fat, over 100% the daily recommended max of sodium, and it provides 57.5% of your daily calorie needs based on a 2,000 calorie diet."
Not only is this menu item packed full of calories, saturated fat, and sodium, but eating this will leave your body with an unbalanced meal.
"When it comes to carbs, they are supposed to be part of a balanced meal, but this meal is all carbohydrates and a great example of an unbalanced, carb-heavy meal," says Amidor. "Panera has so many healthier choices, and if you are craving their awesome mac and cheese, just opt for a child's size instead."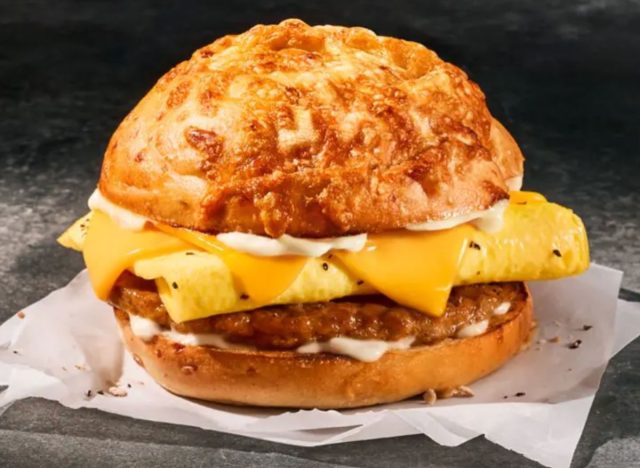 Per sandwich: 790 calories, 48 g fat (18 g saturated fat), 1,230 mg sodium, 61 g carbs (2 g fiber, 5 g sugar), 30 g protein
There's nothing quite as comforting as starting your morning off with a warm, crispy breakfast sandwich, but the Sausage, Scrambled Eggs, and Cheese on an Asiago Bagel is one of the unhealthiest items on Panera's menu.
"This breakfast sandwich has a whopping 18 grams of saturated fat, but the American Heart Association recommends aiming for a dietary pattern that achieves 5% to 6% of calories from saturated fat, meaning if you need about 2,000 calories a day, no more than 120 of them should come from saturated fat," says Lauren Manaker, MS, RDN, registered dietitian and author of The First Time Mom's Pregnancy Cookbook and Fueling Male Fertility. "That's equal to about 13 grams of saturated fat per day, and just eating this sandwich puts you over the saturated fat quota for the day."
Thankfully, if you're craving a breakfast sandwich but wanting something a bit healthier and more balanced, Amidor says you have options.
"As a dietitian, Panera is my go to for many meals, including breakfast," says Amidor. "Healthier breakfast options that are available include Avocado, Egg White, Spinach, and Cheese on Sprouted Grain Bagel Flat and an Egg and Cheese on Brioche."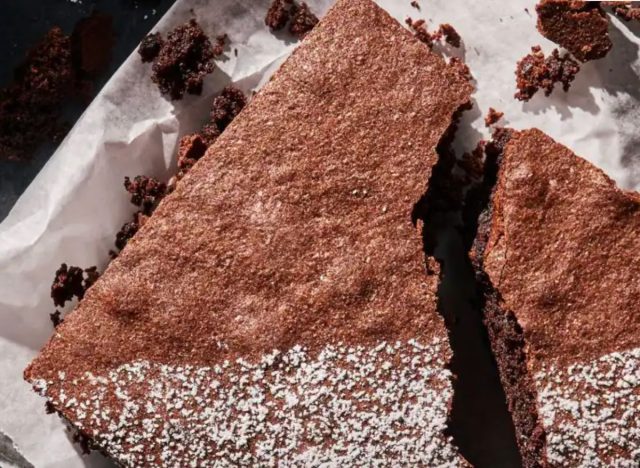 Per brownie: 470 calories, 18 g fat (6 g saturated fat), 95 mg sodium, 69 g carbs (4 g fiber, 50 g sugar), 7 g protein
If you're wanting a sweet treat from Panera's famous bakery section, Amidor recommends opting for something other than the brownie. "This indulgent dessert has about 30% of your total daily recommended amount of saturated fat, and the sugars are through the roof as well with an equivalent of 12.5 teaspoons of granulated sugar," says Amidor.
She adds that, "If you're craving dessert, there are better options than the brownie, and at many Panera locations, you can find smaller-portioned cookies, or you can share a lower-calorie cookie with one or 2 friends."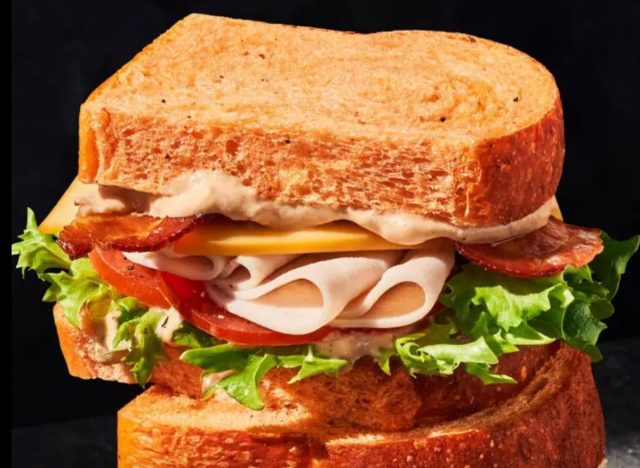 Per sandwich: 1,000 calories, 41 g fat (19 g saturated fat), 2,550 mg sodium, 104 g carbs (4 g fiber, 11 g sugar), 54 g protein
People often opt for a sandwich of some sort when they're at Panera and looking for a healthy lunch, but unfortunately, one of their sandwiches in particular is one of the unhealthiest choices on the menu.
"Although a turkey sandwich may sound like a better-for-you choice, the portions for the Bacon Turkey Bravo sandwich are just too much. This sandwich's total calories are 50% of what you should be consuming on a 2,000-calorie diet, the sodium is over 100% of the total recommended daily amount, and the saturated fat is 95% of your total recommended daily maximum, thanks to the bacon and smoked gouda," says Amidor.
If you're looking for something else, Amidor says, "There are certainly better choices on the menu to select from, or you can opt for just half of the sandwich."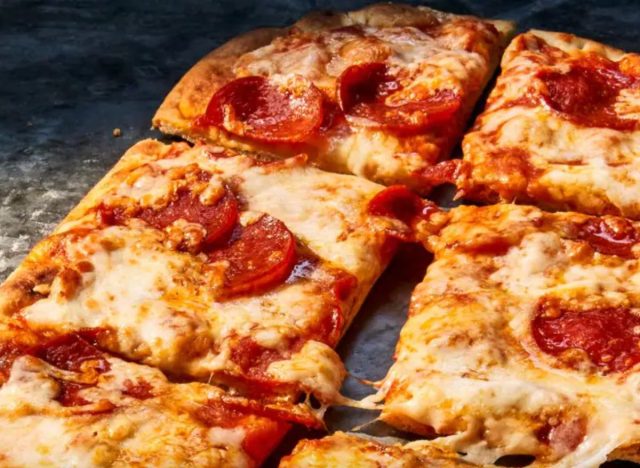 6254a4d1642c605c54bf1cab17d50f1e
Per flatbread: 1,050 calories, 52 g fat (24 g saturated fat), 2,580 mg sodium, 95 g carbs (3 g fiber, 8 g sugar), 45 g protein
We get it—pizza is delicious. But if you're at Panera looking for some healthier menu options, this is an item you'll probably want to skip.
"The calories in this flatbread pizza are over 50% of your daily recommended amount with 133% the recommended max of artery-clogging saturated fat, and the sodium is above your total recommended daily max as well," says Amidor.
She also notes that this is another example of an unbalanced meal, with very little fiber and other helpful nutrients.
These may be some of the worst Panera orders to make, but it doesn't mean you can never enjoy them. You can always treat yourself from time to time, or you can follow some of the suggestions made above, such as only ordering half of the sandwich or opting for a child's size when that's available. Either way, the important part is doing your best to have a balanced meal that is still delicious.