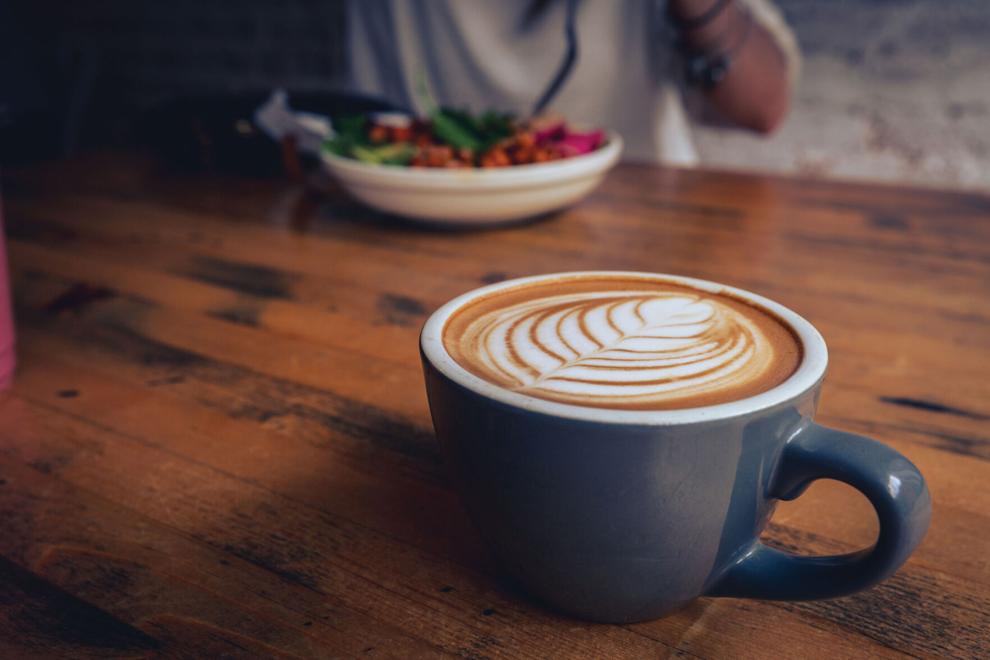 If you're looking to start your day with a morning brew, or searching for that midday pick-me-up, there are countless coffee shops to choose from in Lancaster County. Here are a few to try:
Coffee and Cream – 101 N. Front St., Columbia
Whether you're in Columbia to learn how they make ice cream at Turkey Hill Experience or to enjoy one of the many scenic hiking trails in the area, I highly recommend starting or ending your day at Coffee and Cream. Located just off the Columbia exit, this winsome café offers hearty food, to-go snacks, coffee drinks, pastries, ice cream and more. With the foliage beginning to change, I treated myself to a classic Americano and a warm chocolate chip muffin from Lancaster County favorite Achenbach's Pastries. It was the perfect combination for sitting outside on their welcoming front patio and enjoying the crisp autumn day.
Café One Eight – 18 W. Orange St., Lancaster
Located just around the corner from Downtown Lancaster's Central Market, Café One Eight is a hip coffee shop serving well-crafted espresso drinks along with breakfast, lunch and dinner six days a week. Although it's a small café, it offers an ample food menu with many vegan and vegetarian options. With free Wi-Fi and a menu like this, you can spend hours here. I ordered a hot mocha latte and got a table at one of the café's giant window seats. The barista brought me my order promptly. I took my first sip of the latte and warmed up instantly. It was piping hot and delicious. If you're in downtown Lancaster, I highly recommend checking this place out as it has something for everybody.
Latte Luv – 3314 Lincoln Highway East, Paradise
I was driving down Lincoln Highway when I saw a sign for this local coffee drive-thru a few miles up the road. I quickly stumbled upon what looked like a small cottage on the side of the road and got in line behind the rest of the cars. As I pulled up to the front, I expected an intercom machine to take my order just like any drive-thru. Instead, I was greeted at the window by the smiling face of a woman who I later learned was the owner. Per her recommendation, I ordered a salted caramel latte. She said their salted caramel syrup is made from scratch at a local candy shop and it's a must-try. She wasn't wrong. The latte was sweet and creamy, but still tasted like coffee, which is something I appreciate. It's obvious that this place puts plenty of love into their recipes. They also offer fresh baked pastries, crowd-favorite breakfast sandwiches and seasonal items made with local ingredients.
Whiff Roasters – 54 N. Broad St., Lititz
I discovered Whiff Roasters inside Market at the Wilbur in downtown Lititz and immediately felt like I was in the Willy Wonka of coffee shops. This place has everything: over 60 flavored coffee selections, every type of flavored syrup and milk under the sun, five different cold brews on tap, plus signature teas, featured monthly specials and a retail shop. Given that I was in Lititz, I ordered "The Wilbur." (If you're visiting Lititz, you'll soon discover the significance of Wilbur Chocolate.) The hot espresso latte is made with Wilbur cocoa powder, chocolate sauce and more chocolate sauce. It was the perfect sweet treat. I was so impressed by Whiff Roasters that I ended up buying a flavor sampler of K-cups on my way out so I could continue to enjoy the coffee at home.