CHICAGO — Some cafes that have long served as neighborhood gathering spots are being forced to reduce their hours, close locations or raise prices to stay afloat amid ongoing pandemic and economic challenges.
Some are facing shortages of ingredients or have seen fewer customers since COVID-19 hit, while others struggle to hire enough employees to staff the cafe.
"It's like we're losing public spaces," said Soren Spicknall, a cafe lover from South Pullman. "Cafes are so social, and it's interesting to see a lot of folks, like myself, experiencing work days that have become more atomized and more individual because we aren't spending as much of the day with other people in these spaces that we've either lost, or feel less comfortable going to." 
Spicknall created a map of cafes on the South Side about five years ago as part of a personal mission to visit them. Over time, the map "blossomed into a broad view of openings, closings and other patterns underlying coffee shop activity," Spicknall said. 
During the pandemic, Spicknall has charted "at least half a dozen" South Side cafes closing — though, most recently, there's been a wave of cafe openings, which means he now has more cafes listed than before the pandemic.
But even with that growth, there's been changes: Only 10 of the South Side cafes Spicknaill tracks are open after 6 p.m. now; before the pandemic, there were about 20 evening options, he said.
'There's This Loss Of A Certain Customer Base' 
Some cafe owners have been forced to reduce their operating hours because they continue to see fewer customers than before the pandemic, with more people opting to work from home rather than in public spots or others still not yet comfortable dining and drinking in.
"I'm a devotee of coffee shops, but I still don't eat indoors right now," Spicknall said. "That's just not a place that I'm comfortable in yet, and many of the people in my social circles are still in that place, as well. So, there's this loss of a certain customer base that still hasn't come back."
Kusanya Cafe, 825 W. 69th St., closed for six months at the beginning of the pandemic. It reopened in April 2021 — but its customer base hasn't fully returned, said Phillip Sipka, the nonprofit cafe's executive director.
"We were never really getting a lot of traffic even before the pandemic, so cutting that in half is almost untenable," Sipka said. "We didn't want to shift to curbside orders because part of our mission is being a gathering place. We're not really just in the business of selling food and coffee." 
Although Kusanya Cafe has been reopen for more than a year, Sipka said many of the cafe's customers, including those who used to host events in the space, have pivoted to other businesses.  
"Closing down is hard because a lot of people and event planners had to go find other places, and some of them stayed with those places," Sipka said. "Building that customer base up again takes time, and when you lose that momentum, it's hard to get it back." 
When Aisha and Kendall Griffin opened Afro Joe's Coffee & Tea, 1818 W. 99th St., in October 2020, they had to focus on online orders and curbside pickup because there were pandemic restrictions.
"We had to adjust our business model very quickly," Aisha Griffin said. "When there was no indoor dining, we had to rely heavily on curbside pickup and online ordering, which we probably wouldn't have utilized as much as we do now if not for the pandemic. We didn't have to reduce our hours or close, but we had to get snappy to figure out how we were going to continue generating revenue." 
But as restrictions have disappeared and some people get comfortable with indoor dining, Afro Joe's is seeing more customers than ever before, Aisha Griffin said.
"Since the majority of mandates have been lifted at this point, we're seeing much more people coming in, which is great for business," Aisha said. "People don't seem to mind coming into the cafe, sitting down and having a cup of coffee."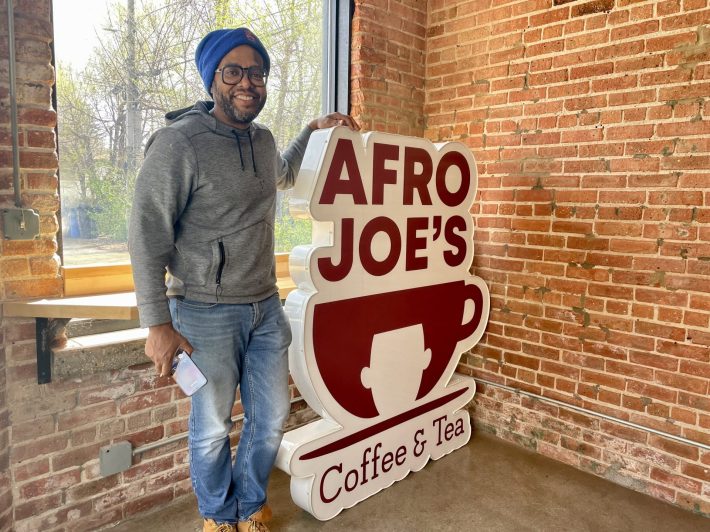 'It's A Good Day If We Lose $50 Instead Of $100'
Some cafes are still struggling with the losses they incurred earlier in the pandemic — and the economic woes that have continued for small businesses since then.
Shortly after the Griffins opened Afro Joe's Tea & Coffee, indoor dining was banned to protect Chicagoans from the virus's spread.
"Because of the pandemic, we've incurred more costs and struggled with revenue because there have been so many things that stopped or impacted the business in some way shape or form," Aisha Griffin said. "But we still can't apply for grants and other help like that because we haven't been a business for long enough.
"Granted, we're not in the same pandemic that we were in two years ago, but because of all that's resulted from it, we're still impacted day in and day out." 
Sipka said it's difficult for food businesses to close and reopen because their supplies and products expire quickly.
"When you close down, you have hundreds of dollars worth of stock that just goes to nothing and replenishing that is a big deal," Sipka said. "I tell people that cafes are like a freight train. It takes a lot to start and stop them. Asking these kinds of businesses to break quickly and start up again quickly is really hard."
More recently, inflation and pandemic-related shortages have caused headaches for cafe owners, who said they have to try much harder to find ingredients that used to be readily available. Once they find suppliers with items in stock, they have to pay more than they used to, they said.
Sipka said the suppliers he used to rely on for Kusanya no longer carry basic items he needs, so he frequently has to find new wholesalers for ingredients and supplies. 
"I'm not talking about some exotic cheese. I mean, basic things — my main suppliers haven't had straws or brown sugar for eight months," Sipka said. "I have to do a lot of extra work to try and locate these things. Now, I have like four or five different places I alternate between to buy the same stuff we used to be able to get pretty easily." 
Aisha Griffin said finding ingredients that used to be readily available is her biggest challenge. When Aisha Griffin and Sipka are able to find the right supplies, they cost much more than they used to, they said.
Last month, a box of eggs cost Aisha Griffin about $30; when she reordered the same shipment a few days ago, it cost about $70, she said. 
"Some things, for us, have quadrupled in cost, and it doesn't seem related to anything," Aisha said. "It feels like suppliers are raising prices because they can and because people just expect inflation now." 
Aisha said they had to raise prices at Afro Joe's because the cost of ingredients keep rising. 
"You hate to do it, to pass that inflation on to your customers, but it's just so much money that you can't just eat as a business, especially as a new business," Aisha said. 
Prices at Kusanya Cafe haven't increased, but the cafe has been operating at a loss since the pandemic began, Sipka said. Since the cafe is a nonprofit, Sipka wants to keep costs low so all Englewood residents can enjoy it.
"If we pass that cost onto consumers, we're just not accomplishing our mission," Sipka said. "Every day, we're busting our tails to lose money at the end of the day. It's a hard feeling to be working all day and see that the cafe is still in the negative.
"It's a good day if we lose $50 instead of $100. Our goal has always been to just break even, but it's a lot harder to do that now."  
'It Comes Down To Simply Having Enough People In The Cafe At The Right Time' 
Cafe owners are also struggling to find and retain enough employees.
Zachary Heren, who's worked at Collectivo Coffee in Andersonville since September 2021, said workers often struggle keep up online orders and in-person customers. During COVID-19 waves in the colder months, employees have also had to frequently call out, leaving fewer people to run the shop, Heren said.
"A lot of it comes down to simply having enough people in the cafe at the right time," Heren said. "A lot of times, we'll have this huge line of online orders from people who just push a few buttons on their phone. Sometimes we have to issue refunds or call customers, and all of these things require people to step away from their post to deal with the whole online aspect of the cafe."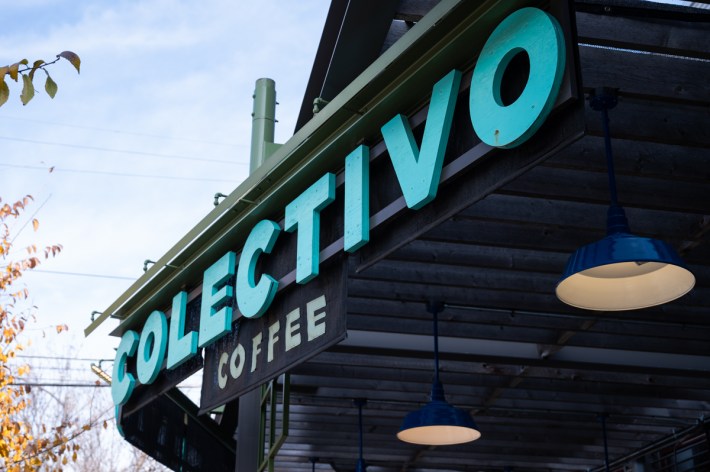 As part of the bargaining team for the union that represents Collectivo Coffee workers, Heren has worked since June to secure a contract with better wages and more flexibility in scheduling, among other things. 
"Especially with the pandemic, more people have started to feel overworked, and there's a stronger sense of solidarity and people talking openly about their issues," Heren said. "There seems to be a greater understanding that everyone is basically having the same issues and that organizing in your workplace is one of the most direct and effective things workers have found to be useful." 
At Kusanya, a "Help Wanted" sign has hung on the door for nearly a month, but Sipka has only heard from two applicants. 
Afro Joe's Coffee & Tea is facing similar challenges. Aisha Griffin said it's hard to understand why it's so difficult to find employees.
"It seems like people have found other things to do to make money, like opening their own businesses, and have moved out of the food industry," Aisha Griffin said.
When someone calls in sick, Sipka has to close the cafe for the day because he can't run it by himself. If even one employee were to quit, the cafe would have to close, he said. 
"It's an existential threat for us, more than money, more than traffic patterns," Sipka said. "We try to be as flexible as we can around people's schedules and put people in positions they'll enjoy and succeed in, but I can't always control whether someone stays."
Sipka said he doesn't think increasing wages by a few dollars will draw more employees due to the overarching inequities in the United States. 
"I make less than my employees already, but I don't feel like the solution is as simple as raising pay," Sipka said. "It's an American culture problem. I'll be in the trenches here as long as I have people to work with me, but a lot of the issues we're facing are really out of my control." 
'Have A Heart For These Workers' 
Lessening the load these cafes are facing can be as easy as treating the people making your coffee with respect and understanding, workers said. 
"Workers are feeling overworked and underpaid and like they just can't get a break. … Just understanding what food service workers are feeling right now is really helpful," Heren said.
Spicknall said it can also be helpful to ask your local cafe owner which items have the best profit margins so you can buy them more frequently. 
Other ways to help include buying merchandise and bags of roasted coffee beans from cafes and letting your job-seeking friends know when you see hiring signs, Spicknall said.
"I'm not sitting in cafes as much as I used to, as much as I would love to, but I do buy a bag of beans every once in a while to make up it," Spicknall said. "But the No. 1 thing I'd say is just have a heart for these workers and tip them really well."
Listen to "It's All Good: A Block Club Chicago Podcast":