What trends will take the food and beverage industry by storm in 2023? Have some been brewing for a while? Find out New Food's predictions here…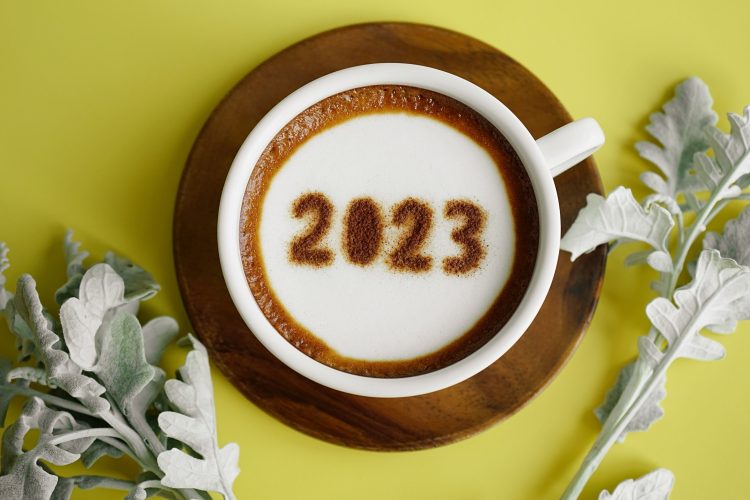 2022 has been and gone and we have now entered another year. With a new year comes resolutions, a different number to remember when writing the date, and, of course, new food trends. But what will they be?
Last January, New Food's Editor Joshua Minchin predicted various food trends for 2022. These included: indulgence continuing, home cooking remaining popular after the pandemic, few changes being made to CBD regulations, functional foods and personalised nutrition being in demand and, finally, that the low and no alcohol upwards trend would continue.
With overwhelmingly accurate predictions, our Editor must have looked into a crystal ball and foreseen home-cooking companies such as HelloFresh expanding globally and functional beverages appealing to consumers looking for sports enhancement and beauty remedies.
However, turning to the next 12 months, here are five predictions for the upcoming food and beverage trends that are so close you can almost taste them.
1. Sustainable food supremacy
Sustainably sourced foods are a hot topic for consumers. In fact, research by Economist Intelligence Unit (EIU) claimed that there was a 71 percent rise in popularity of searches for sustainable goods over the five years leading up to 2021.
Since then, research and technology company Glow carried out a study during 2022, revealing that one in four consumers in the UK have changed their food purchases, now opting for sustainable brands, thus suggesting consumer awareness surrounding sustainability is more acute.
Sustainable products now come in all shapes and sizes, tastes and textures. But there isn't just a surplus of sustainable options to choose in the supermarket, there are also many eco-friendly packaging types.
The Freedonia Group found that nowadays, "food packaging sustainability is increasingly important to consumers". In a study, it discovered that consumers considered jars, bottles, snack bags, and pouches made from bioplastics to be the most eco-friendly packaging options, while conventional plastics were ranked lowest in perceived eco-friendliness. Thus, with the mindset that plastic is "bad" and reusable is "good" for the environment, shoppers might be taking packaging into account when stood in the supermarket aisles.
What's more, with apps now allowing consumers and food companies alike to track their sustainable footprint and brands such as Walkers making the switch to cardboard packaging to cutdown on plastic use, 2023 could be the year more people start making sustainable food choices.
However, New Food recently reported that the cost-of-living crisis is driving consumer purchasing rather than sustainability, suggesting that, for many shoppers, price is of greater concern than impact on the planet during a challenging economic time. In fact, for 71 percent of consumers, value for money was the influential factor impacting product or brand choice.
Thus, with various concerns to consider, it may not be full steam ahead for sustainable purchases as consumers could be forced to pick and choose when they are able to purchase sustainably according to whether can afford it.
2. American chains changing the fast-food game
New Food recently reported on the rise of American fast-food chains in the UK and this trend seems to be showing no signs of stopping, in fact, looking at DUNKIN' Donuts alone, Alan O'Brien, International Field Marketing Manager at Inspire Brands, told New Food: "The plan over the next three to five years is to expand the DUNKIN' footprint extensively."
Giving British burger chains a run for their money, the Wendy's website tells customers that "the wait for a decent burger is finally over" and highlights that there are now 13 individual restaurants across the UK.
Although this number is significantly smaller than the 5,901 Wendy's stores spanning across the US, every large scale expansion has to start somewhere.
Looking at the other fast-food brands that America has to offer, Restaurant Engine states that all eleven of the top chain restaurants worldwide are of American origin. Citing the leader as McDonalds, with a total of 40,031 restaurants worldwide, the report also notes the success of other quick-service outlets and coffee shops that are globally available including Subway, Burger King, Starbucks and KFC.
With such a variety of American fast-food chains now available all over the world will this year's consumer favourite takeaway be all American, or could it be chain established a little closer to home?
3.  Goodbye best-before dates
It almost feels like muscle memory: picking up a product and checking the label for the best-before date. But with numerous supermarkets in 2022 ditching best-before dates in order to allow consumers to make their own decisions and cut down on food waste, will all best-before dates be scrapped for good?
While its unlikely that you will never see a best-before date again, it is possible that more food and beverage companies will remove them from their product labels in a bid to limit food waste.
According to the United Nations (UN), around 14 percent of food produced globally is lost between harvest and retail. What's more an estimated 17 percent of total global food production is wasted (which is comprised of separated into 11 percent in households, five percent in the food service and two percent in retail).
With more people on the planet to feed than ever, fruit and vegetables seemed to be the first food types subject to label alterations, with the likes of Sainsbury's, Waitrose and M&S making changes to hundreds of fruit and vegetable product labels in 2022 alone.
With best-before dates becoming a thing of the past for some food products, the drive to reduce food waste may spur on further label alterations in 2023. Watch this space (and food labels).
4. Less plant-based, more farm-bred
Though the BBC reports that "Veganuary" was originally a challenge established by a UK non-profit organisation in 2014, the word now seems very familiar and normal.
According to Google Trends, in the last five years the term "vegan" was most searched between 29 December 2019 and 4 January 2020. Since then, though interest has fluctuated somewhat, the number of people searching "vegan" has decreased from January 2022 to January 2023.
What's more, according to The Independent, Pret a Manger will be "closing the majority" of its vegetarian stores due to low demand. After first being born in 2016, Veggie Pret set up shop in numerous locations across the UK, serving a variety of vegan and vegetarian options to customers. However, as we enter 2023, only two stores will reportedly stay open.
Episode Twenty: What's more sustainable – a meat-based diet or a vegan one?
Furthermore, international food and restaurant consultant Baum + Whiteman has predicted that there will be a decrease in the popularity of plant based foods. Delving deeper, it has revealed that supermarket sales of "faux" meat dropped about 10 percent by volume during 2022, while sales of the real meat continued rising. 
And Statista agrees with there being an incoming surge in popularity for farmed meat, forecasting that the worldwide meat industry worldwide will grow by 7.47 percent between 2023-2027.
However, with the US Food and Drug Administration (FDA) giving the green light to UPSIDE Foods' cultured meat in November 2022 and research by GFI Europe showing that there is a growing awareness of cultivated meat in major markets, all hope may not be lost for alternative proteins.
So could it be out with the new and in with the old? Or perhaps the opposite? It's up to consumers.
5. The rise of the own-label
Without sounding like a broken record, food inflation is on the rise. This means that consumers may be looking for cheaper alternatives in a bid to navigate the cost-of-living crisis.
Chris Elliott, Professor at Queens University Belfast, told New Food that he thinks "the movement from branded to own label purchasing is likely to continue" as, in his opinion, it is clear that "the economic crisis will go on for at least the first half of 2023".
Research from Kantar shows that own-label range sales are at a record high, with sales reportedly rising by 7.3 percent in 2022, taking up 51.6 percent of the market compared with branded products.
However, Elliot explained that this food trend may not be a particularly good one, hoping instead that there will be "a growing interest in locally produced food that is minimally processed" and that "sales will pick up once again".
With so many across the world struggling with food insecurity during a challenging economic time, own-label food, while not the only option available, does seem a tempting one. But, as mentioned earlier, with more consumers keen to make purchases with sustainability in mind, who knows what shelves might be empty due to increased demand in the coming year.
Related organisations
Baum + Whiteman, BBC, Dunkin' Donuts, Dunkin', Economist Intelligence Unit (EIU), Glow, Google Trends, Kantar, Marks and Spencers, McDonald's, Sainsbury's, Statista, The Freedonia Group, United Nations (UN), Waitrose, Walkers, Wendy's